The fashion industry is in a constant state of flux. Trends come and go. Tastes change. What's hot today might not be tomorrow.
The transient nature of the fashion industry and the sweeping changes which have taken place over the last two years make it difficult to predict what the future of fashion will be like.
The looks and trends of today which define the fashion industry will always have the most decisive influence, but ever-evolving digital spaces have become consumers' go-to shopping habit for discovering the latest brands and looks.
Read on to learn about the landscape of the eCommerce fashion industry in 2022 and to discover the latest trends brands leverage to reach new audiences and sell more products.
The eCommerce fashion industry in 2022 is the BIGGEST, but there will be a long road to recovery
Even after two years of severe disruption, store closures, mergers, and acquisitions, fashion is the biggest eCommerce industry by market value.
Revenues in the apparel, accessories, and footwear markets make up a big chunk of the total value, and in 2021, the eCommerce fashion industry had a market size of $668 billion. By the end of 2025, that number is expected to increase to over $1.0 trillion.
And with freedoms restored, 2022 has been the year for fashion retailers to get back to a sense of normality and for consumers to unleash pent-up demand for new occasions.
But growth will be uneven. Demand will be patchy. And there are significant global and economic challenges ahead.
Disruption to the global supply chain persists. The struggle for profitability of DTC fashion businesses remains. Wealth gaps continue to widen, and rising online ad costs have made it difficult to rely on performance marketing as a long-term customer acquisition strategy — paving the way for longer-term brand-building strategies.
The impact of the coronavirus pandemic on the fashion industry and the dawn of discovery marketing
The aftermath of the pandemic has resulted in more consumers shopping online and discovering new digital experiences, giving rise to the proliferation of social commerce, where shoppers can go from discovery to purchase in one seamless digital shopping journey.
Faced with these seismic shifts, fashion retailers are building engaging, discovery shopping experiences while exploring social commerce trends and marketing to new audiences to remain competitive in a rapidly changing world.
Building the best digital experiences is a big part of brand-building strategies, enabling fashion retailers to better align themselves with modern customer values and expectations.
Fashion retailers are focusing on brand building
When consumers shop online, they have endless amounts of choice. And up until relatively recently, standing out and cutting through the noise has often meant spending more on ads.
In 2021, the CPC of paid search ads rose by 15%, causing brands and retailers to rethink their brand and marketing strategies. Fashion brands and retailers are now investing in brand building in efforts to get repeat sales without the need to increase spend on ads.
And it's the content that fashion retailers publish that helps them build stronger brands in the minds of customers and get repeat orders.
Publishing content on social media, such as reel videos that tell a story or creating other engaging content on owned channels for shoppers to discover, like digital catalogs, has formed part of fashion retailers' brand building and marketing strategies.
Digital catalogs enable fashion brands to express their values, tell their story, and show their latest looks in a familiar format. Here's an example: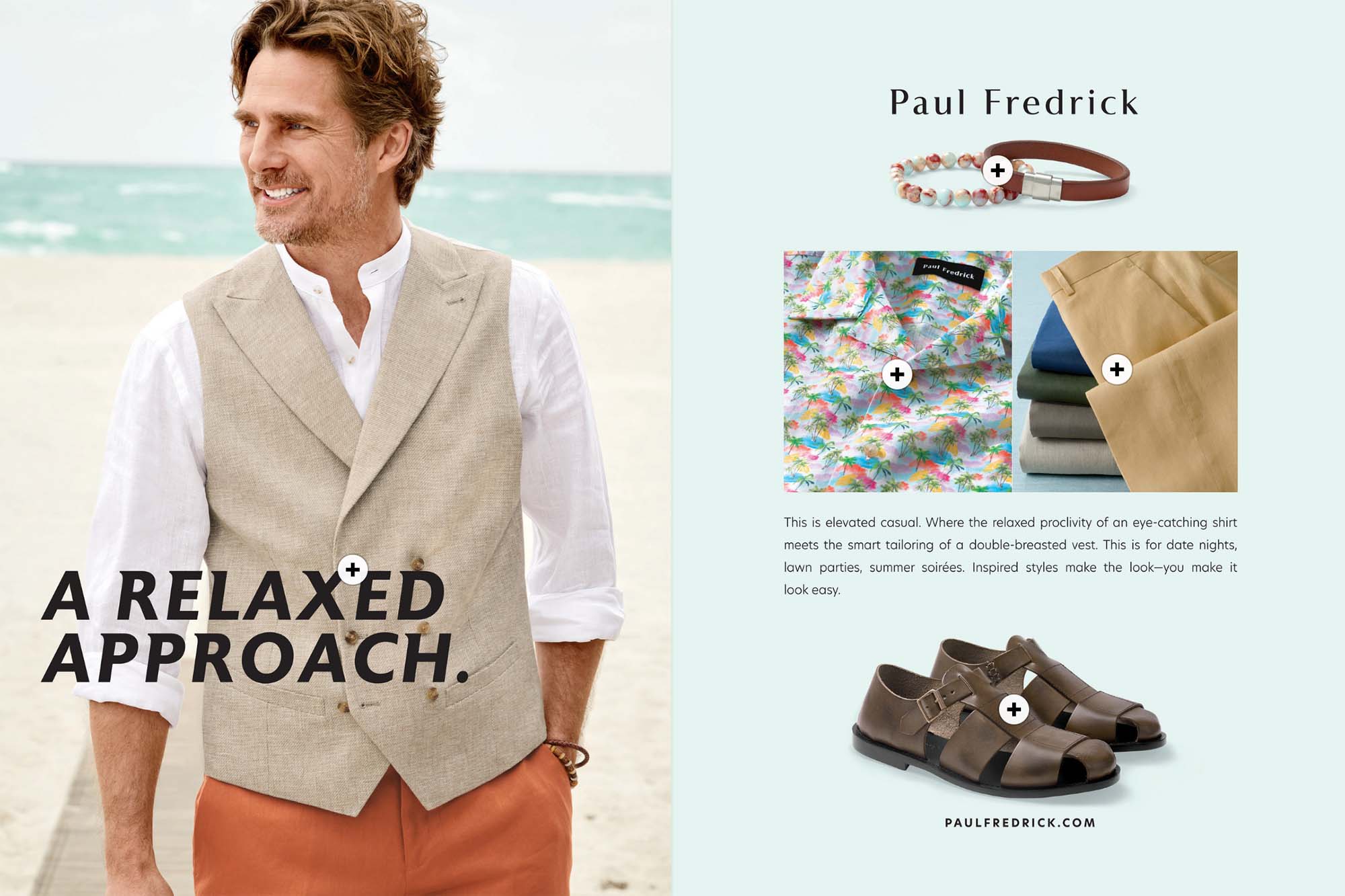 Spread from Paul Fredrick's catalog.
These multichannel marketing strategies which successful brands employ are matched with great omnichannel shopping experiences, where customers get a convenient and personalized experience from whichever way they choose to shop.
Omnichannel retail experiences
In 2022, consumers still expect omnichannel shopping experiences, where they can seamlessly move between offline and online touchpoints in the customer journey. This helps brands convert more shoppers into customers and get more repeat orders.
And now that brick-and-mortar stores are back open, fashion retailers are using the latest technology and data gathering to meet customer demands for personalized omnichannel shopping.
A great example of this is the experience provided in Rebecca Minkoff's New York flagship. The designer handbag brand installed smart dressing rooms, where shoppers can select items and look at inspirational content from digital mirrors. In-store activity can be saved for future online or offline shopping experiences. And stylists are on hand to offer advice and complete purchases on the shop floor with tablet devices.
Other components of omnichannel operations often include:
Buy online, pick up in-store (BOPIS).
Reserve online, try in-store.
Check out online, and return in-store.
Sustainable and ethical fashion brands
The methods used to manufacture, produce, and dispose of apparel has meant that the fashion industry, and particularly the fast fashion market, is under constant beratement from consumers. Manufacturing and producing fashion products make up 10% of global carbon emissions.
Additionally, fast fashion production hasn't come without a social cost: the low labor cost and hazardous environments workers operate in have often been a breach of human rights.
These issues centered around sustainability and ethics have shaken up the entire fashion industry. Over the last two years, there has been a considerable rise in the number of brands producing and selling more sustainable and ethical fashion.
For example, some brands have chosen to manufacture apparel made from organic or ethically sourced materials or create more durable products.
The resale market for fashion is also set to make considerable gains in 2022 and is growing at a rate 11 times faster than the existing retail industry.
Social commerce
A growing number of social media platforms have introduced shop functionality, where brands can create their in-platform stores for shoppers to check out from without needing to navigate to another site.
Underpinned by the ease at which users can go from discovery to purchase in great shoppable content experiences, social commerce is set to overhaul the way consumers shop online. Sales revenue for brands operating on social media is predicted to reach $2.9 trillion by 2026.
And when the visuals of the fashion industry showing the hottest looks and trends are combined with social media, shoppable fashion-related content makes for an eCommerce sales powerhouse.
A brilliant example is the athleisure market, which in 2021 had a global market size of over $306 billion US dollars. Leading athleisure brands leverage influencer partnerships to grow audience reach and acquire more customers.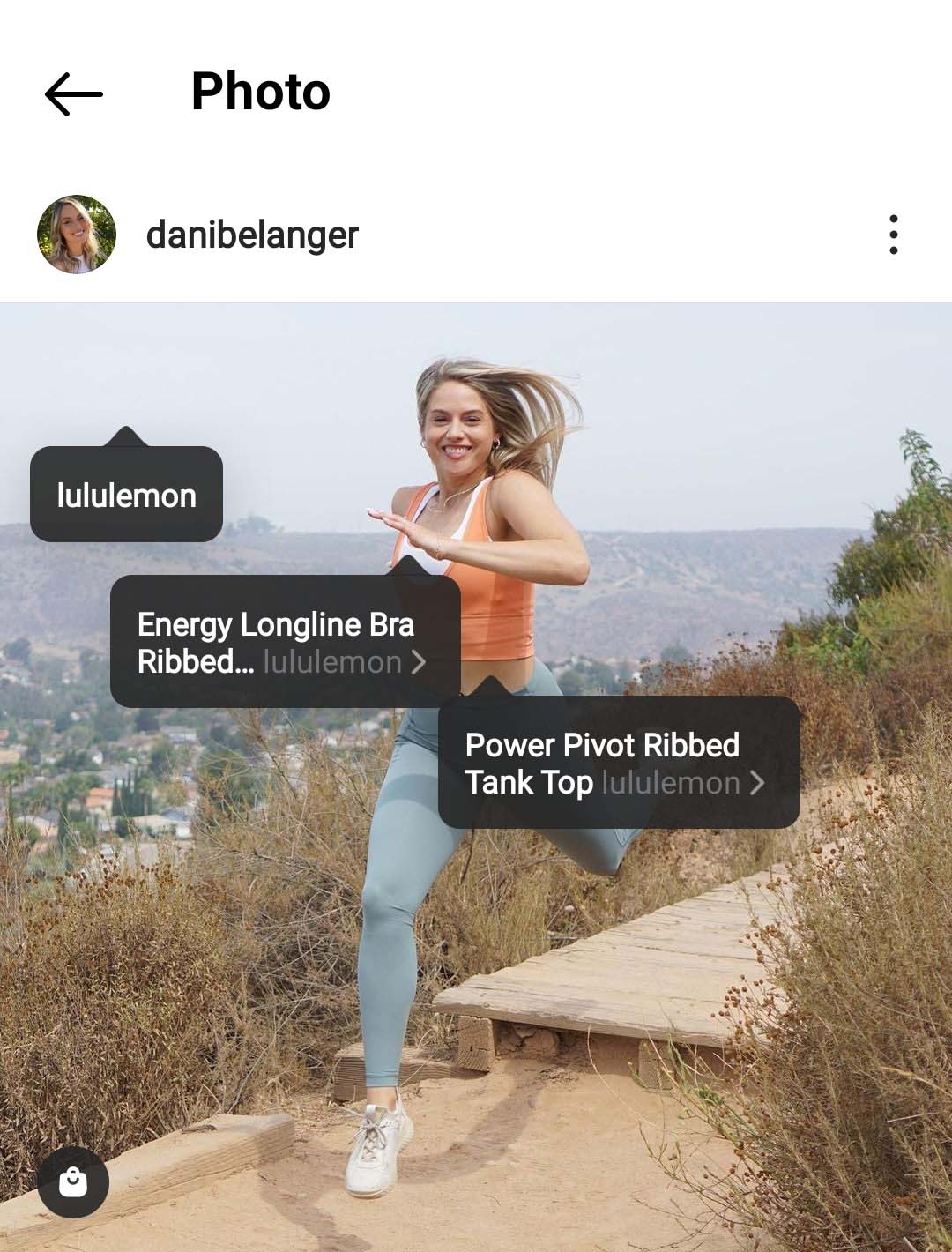 Users can shop directly from content posted by brands and influencers on popular social media platforms.
In addition to influencer partnerships, video content has been at the forefront of athleisure brands' content marketing strategies. Reels, workout videos, or brand stories are paramount for growing a base of followers and building a brand recognized by the online health and fitness community.
Across all industries, video content will continue to evolve and grow and spur the growth of new markets, such as livestream shopping — which fashion brands and retailers have begun to capitalize on.
Internet retail shopping channels and livestream selling
Immensely popular in China, livestream shopping is a $500 billion market and will reach $35 billion in the US by 2024.
In the evolution of livestream selling and home TV shopping, fashion retailers are now launching their own internet retail shopping channels and broadcasting them simultaneously on social media, their website, and traditional television channels.
Earlier in 2022, British multinational retailer Marks and Spencer (M&S) launched M&S Live.
Visitors to the M&S website can now tune in and watch live demonstrations from experts, buy the presented products and ask questions in real-time.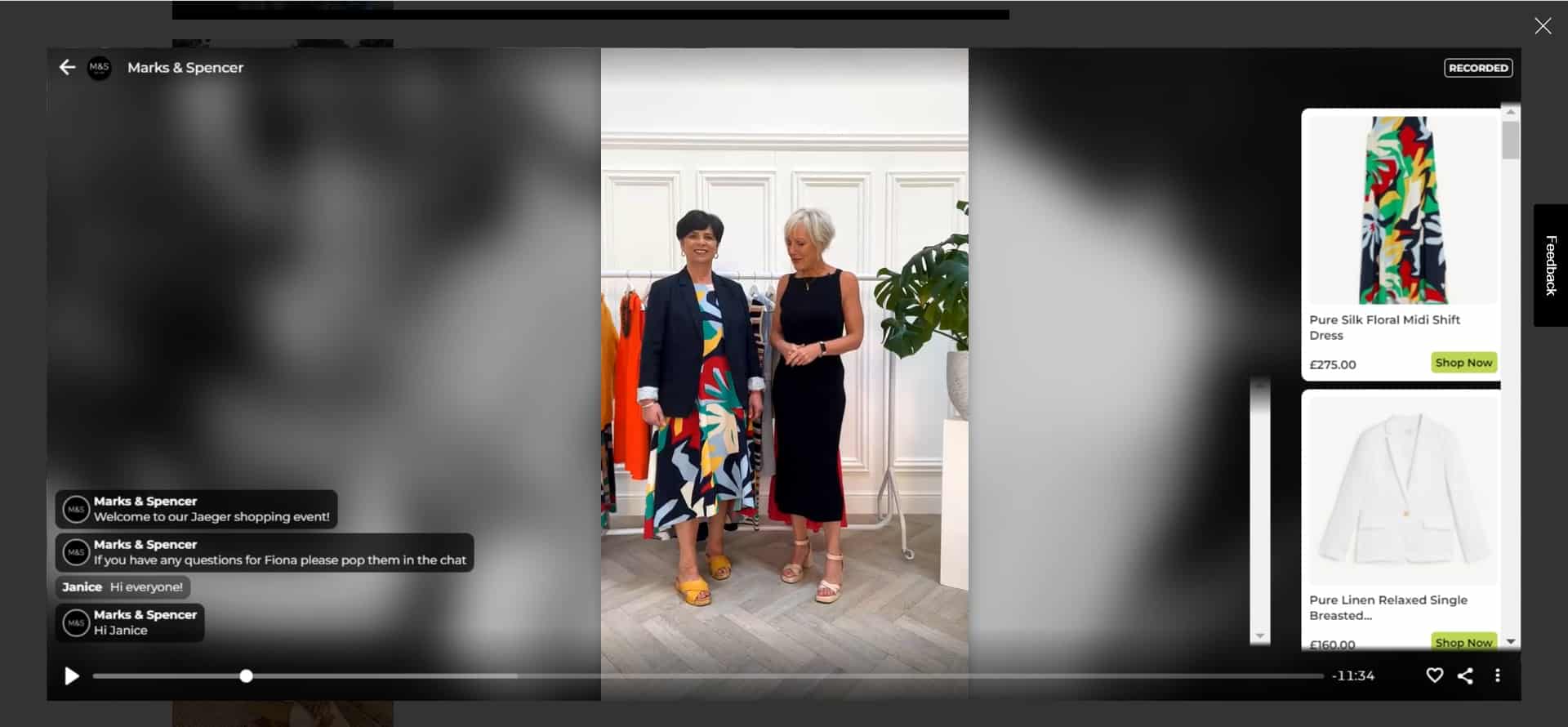 Marks & Spencer live stream shopping event.
The entertaining and immersive experience of live shopping pulls in more web traffic without additional ad spend and fast-tracks the discovery to purchase customer journey while strengthening a fashion retailer's brand image.
Additionally, the two-way, interactive communication that an internet retail shopping channel opens up between brand and customer significantly boosts video content engagement levels and adds a tremendous amount of value to a digital and branded discovery shopping experience.
Livestream shopping (or live commerce) is predicted to make up 10-20% of global eCommerce by 2026 and is the latest invention in digital fashion retail.
igital fashion and the metaverse
While open to interpretation, the metaverse refers to online or virtual worlds where people can 'live' their daily lives and connect, play a game, make purchases or do anything that's permitted in the realms of the cyberspace that somebody is in.
And in some digital worlds, users can make in-game or in-platform purchases using NFTs (non-fungible tokens). Often bought with cryptocurrency, NFTs are a form of digital asset that can only be owned by one person.
But what has all of this got to do with the fashion industry?
Well, Morgan Stanley predicts that the metaverse could be worth over $50 billion US dollars to luxury fashion retailers over the next decade. And there is potentially a lot of opportunity for fashion brands and retailers to market to younger audiences, like Gen Z, who are driving the influence of digital fashion.
Fashion brands and retailers have started experimenting with metaverse-brand collaborations; in December last year, fashion retailer Forever 21 partnered with online gaming platform Roblox to let players run their own virtual stores, where other players could buy in-game merchandise for their avatar.
And there have been other exciting metaverse-fashion brand collaborations, such as between Balenciaga and Fortnite creator Epic Games and partnerships between Ralph Lauren and Roblox.
New eCommerce trends, a changing world, and expanding digital frontiers are opening up more opportunities for fashion brands and retailers
Over the last two years, there have been an immeasurable number of changes in the fashion eCommerce industry, and the rise of social commerce has defined how shoppers discover fashion online.
Fashion retailers have had to adapt to the new ways in which consumers want to shop. This year, in 2022, trends such as Livestream shopping and the rise of digital fashion are beginning to take off and open up new markets for fashion retailers.
Rising advertising costs and the overwhelming amount of choice consumers have when they shop fashion online have forced fashion retailers to build stronger brand images and focus on providing personalized omnichannel shopping experiences.
The growing number of consumers who demand sustainable and ethical fashion means that brands will need to build this into their values and tell compelling stories which show their customers how they're playing their part and sharing some of the responsibility.