Long gone are the days when your customers' only place to shop online was from your website. With the advent of social media, shoppers want to be inspired and shown how your product fits in with and relates to their lifestyle and interests.
As we head into 2022, we can expect to see the innovations and platform updates from last year come into their element. Now, brands can publish longer, shoppable reels on Instagram, and TikTok continues to set the pace for change of the latest video content trends. So, if you are looking for Commerce content marketing trends and inspiration for 2022, you've come to the right place!
Read on to learn about what we can expect from the content published by eCommerce brands and retailers this year and for tips on designing and marketing your next piece of content or ad.
Ecommerce content, ads, and media we can expect to see more of this year
Ecommerce Content Marketing Trends and Inspiration For 2022: Reels, live streaming, and visual storytelling
Year on year, and since the birth of the smartphone, time spent online and on mobile devices hasn't stopped growing. Mobile device speeds and capabilities have never stopped evolving — and many are faster than the laptops we carry around today.
This technological shift has paved the way for the dawn of mobile video content — and specifically reels content.
Since last September, Instagram users have been able to post reels up to 60 seconds long. And this year, we anticipate reel content from brands to be brought to the forefront of video content marketing and into its element.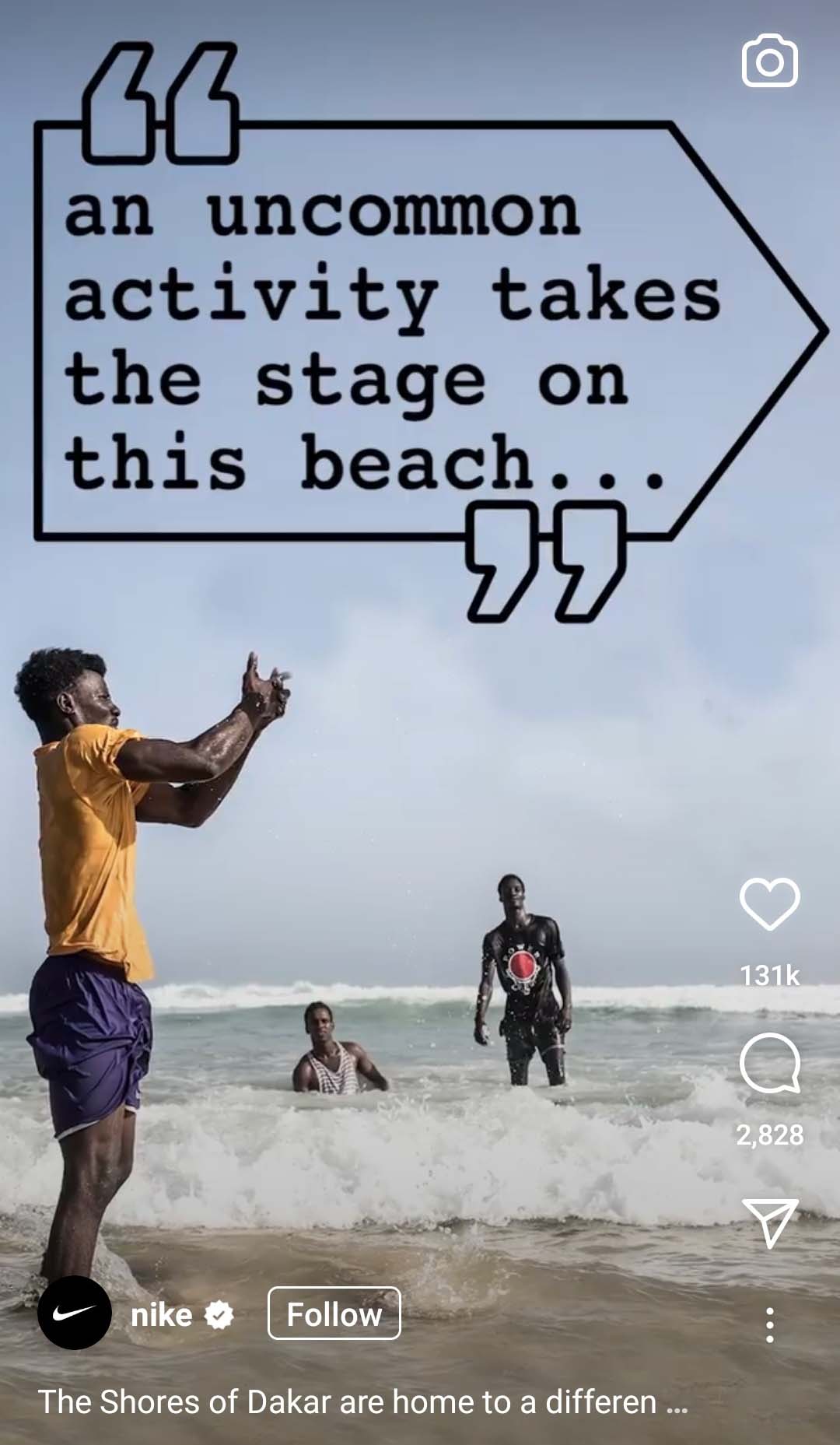 Nike reel on Instagram.
Shooting short videos or reel content for mobile devices doesn't have to be expensive or time-consuming; these highly cost-effective and easy-to-produce videos get 22% more engagement than regular video content — inspiring more browsers to take action.
Reels aren't just limited to Instagram and TikTok either. Brands can post 30-second-long reels onto Facebook, so we anticipate more brands than last year to be capitalizing on these content marketing trends for 2022.
Alongside traditional video content, we're likely to see reels and streaming take on numerous applications for eCommerce brands and retailers:
Short how-to or explainer videos, product trailers and teasers, or quick product detail reels for users to shop directly from, can all be powerful for reels on Instagram, TikTok, and Facebook.
Long-form video content on YouTube, such as social impact storytelling, product reviews, and unboxing videos, will continue to trend.
Live-stream shopping — which allows retailers to sell directly from the experience — increased by 76% since before the pandemic.
As the year unfolds, live-stream shopping is a trend we expect to expand significantly. Amazon live, live Instagram, Facebook broadcasts, or TikTok live shopping are all channels you can expect brands and retailers to grow their presence on.
Ecommerce Content Marketing Trends and Inspiration For 2022: Meme marketing – it's funny because it's true (sometimes!)
Perhaps unsurprisingly, those memes you share with friends or family, which you all have a giggle over, are fast becoming an effective method for the online merchants while they're trying to build a solid ground for their efforts in content marketing for eCommerce.
Last year, on social media, we saw many brands implement and capitalize on this growing, and incredibly relatable content marketing method — cosmetics (The Living Potion), apparel (Gymshark), and groceries (Bugles) are all big brands that utilized meme marketing.
Content marketing for eCommerce with the right memes can be a quick and low-cost way to make your content go viral and get it shared around. But if you do decide to use memes, remember to stay on brand and don't be offensive.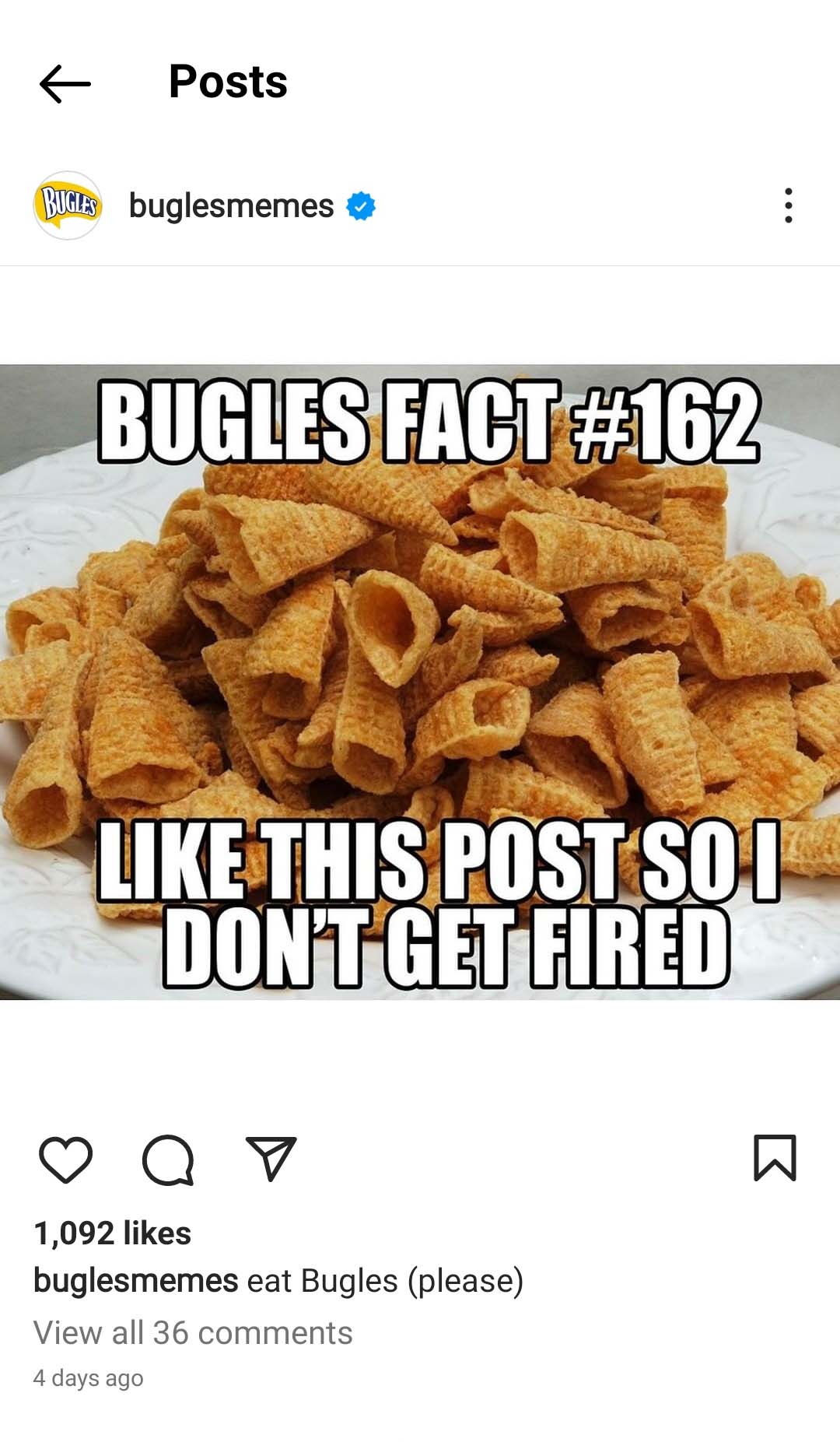 Buglesmemes on Instagram.
Ecommerce Content Marketing Trends and Inspiration For 2022: Social media posts and ads (Facebook)
With almost 3 billion active monthly users, Facebook is still the biggest social media platform out there — so standing out with your posts and grabbing browsers' attention should be a priority.
But how do you stand out and cut through the noise? Helping your audience solve their problem, sharing relatable stories, and being creative are the key components for success. And there are several ways you can achieve this:
Carousel video ads with short, step-by-step explainer videos (BeardBrand).
Social proof in ads copy, such as customer testimonials and comments.
Humour and emojis- brands like Chubbies, PhoneSoap, and LoveWellness do this exceptionally well.
Persuasive and strong copywriting that talks to your audience on their level, gets to the root of your customers' problems, and captures their attention.
If you're looking for content inspiration for your social media ads, we recommend taking a look at the posts below:
Ecommerce Content Marketing Trends and Inspiration For 2022: In-depth reviews, how-to posts, buyers guides, and blogs
In 2022, Content that helps buyers arrive at their decision will continue to form a core component of eCommerce retailers' and brands' content marketing efforts this year.
Buyers guides and blog content that educates shoppers about which products are on the market, what their features are or how prices compare — are all still necessary and effective ways of converting shoppers.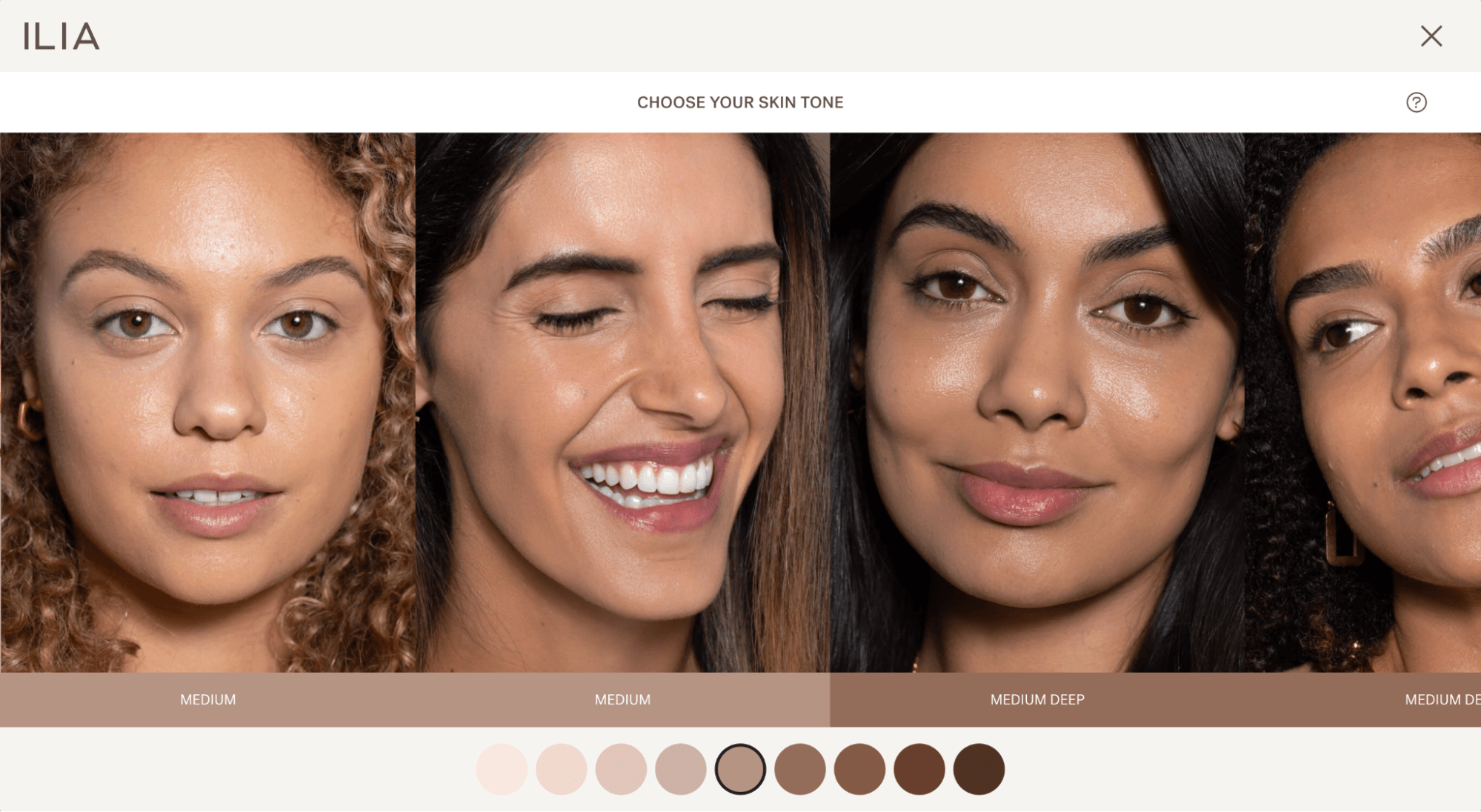 ILIA helps their customers find the right shade to match their skin.
We also anticipate that brands are likely to continue to expand their affiliate networks and partner with advocates or industry magazines that publish reviews, comparisons, and guides.
Ecommerce Content Marketing Trends and Inspiration For 2022: User-generated content and influencer marketing
No matter how a brand tries to convince their audience that they're legitimate and trustworthy, consumers know that it's still a biased opinion. But user-generated content (UGC), or content generated by a brands' own customers, is more authentic, trustworthy, and relatable.
This year, we can expect to see more UGC published online, on social media from influencers, and across the entire digital landscape:
Reviews on social media, Amazon, and YouTube will continue to grow.
Videos or posts of customer testimonials that help tell a short story about why a customer bought a particular product can help others decide on their next purchase.
User-generated content to enter a competition, like GoPro's annual Million Dollar Challenge, could encourage other brands to follow suit.
Interestingly, last year, 75% of brands dedicated a budget to influencer marketing, so we're likely to see this continue to grow. But as consumers grow wise to influencers who seem too promotional, brands should be careful with whom they form partnerships; ensure influencers fit brand goals, values, and desired social reputation.
Ecommerce Content Marketing Trends and Inspiration For 2022: Strive for balance in 2022
Content marketing is constantly evolving to keep pace with technological changes and consumer demands — and eCommerce marketing is no exception to the rule.
With social and mobile browsing, users want content that's quick, simple, and easy to consume.
While video marketing has been considered king the last few years, other content forms are still very important.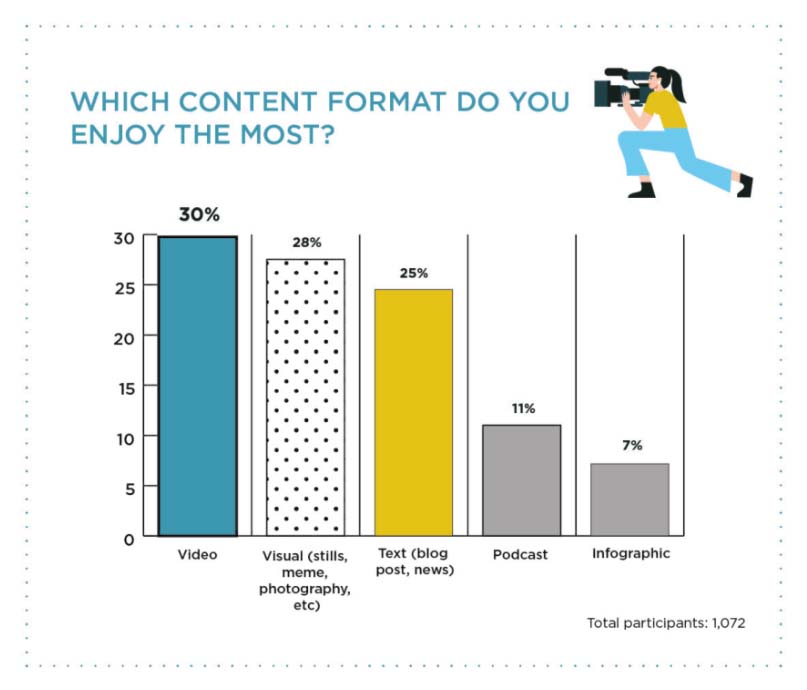 Strive for balance with the eCommerce content you create so you'll have content available for each channel. Think videos, blogs, podcasts, images, memes, slideshows, etc.
It's essential to remember that different content formats will appeal to different audiences and work for different channels. For example, text was more enjoyable than video for people aged 30-44.
Design trends
Ecommerce Content Marketing Trends and Inspiration For 2022: Shift towards Maximalist and Art Deco content designs
Up until now, many brands and retailers have adopted minimalist designs that are free of clutter and noise, making browsing on mobile devices more straightforward.
So to stand out, some brands have begun to use more chaotic and bolder visuals to overstimulate the senses (maximalism). Maximalism helps grab attention and gives images more of a pop than just products displayed over a plain white background.
And as competition for online audiences' ever-limited attention spans becomes fiercer, we anticipate even more brands this year will adopt louder, more clashing, and more overbearing designs in their graphics — and across all channels.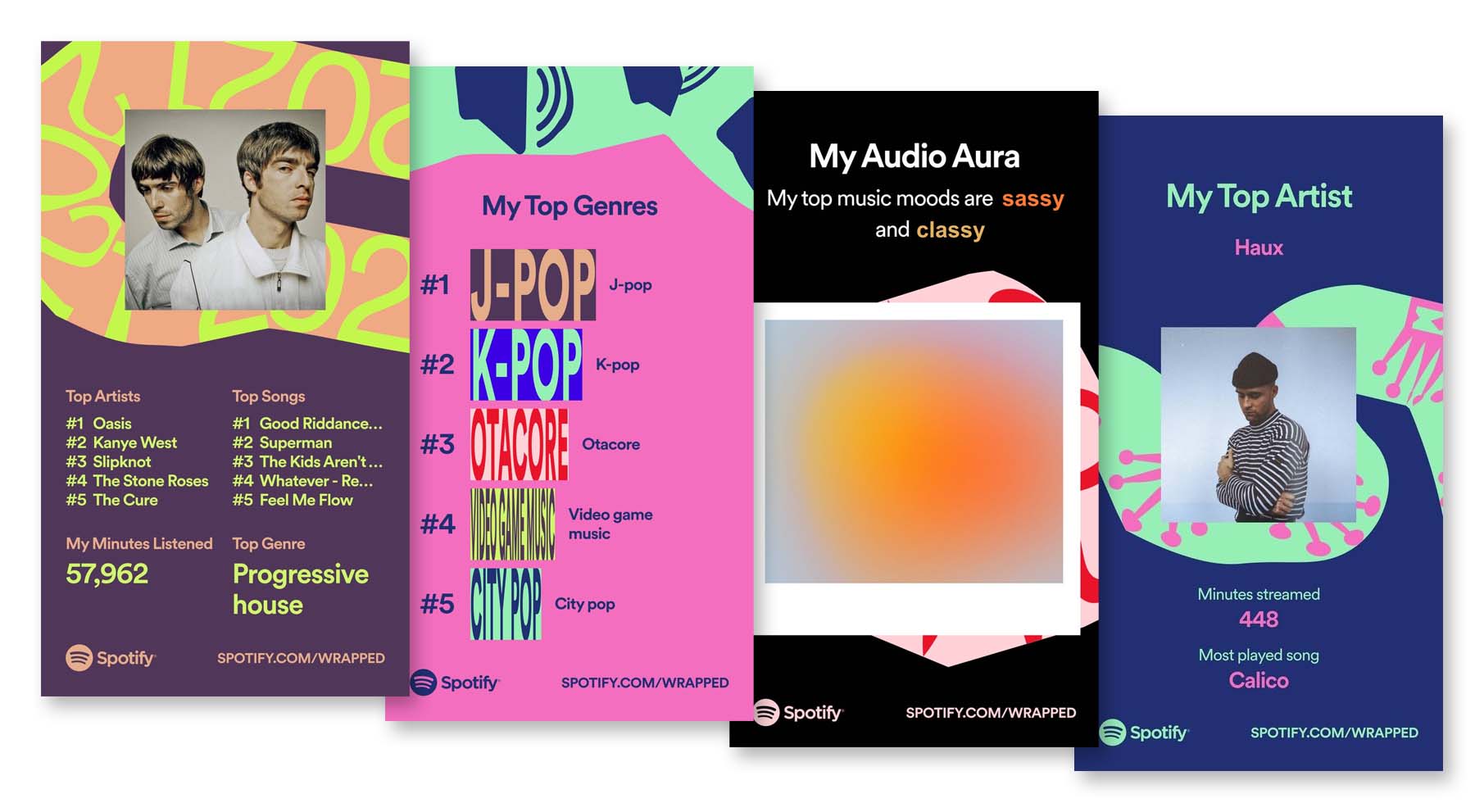 Spotify wrapped 2021 featuring bold design with clashing colors.
Similarly, there might be a return to the more design-heavy styles — like Art Deco. Art Deco will be more ready for digital, where we're likely to see more of it in branded content.
Ecommerce Content Marketing Trends and Inspiration For 2022: Soft pop / colorful minimalism
That's not to say that brands will throw out minimalist designs completely; instead of endless amounts of product images on a white background, we'll see more adoption of soft colors or colorful and polished minimalism.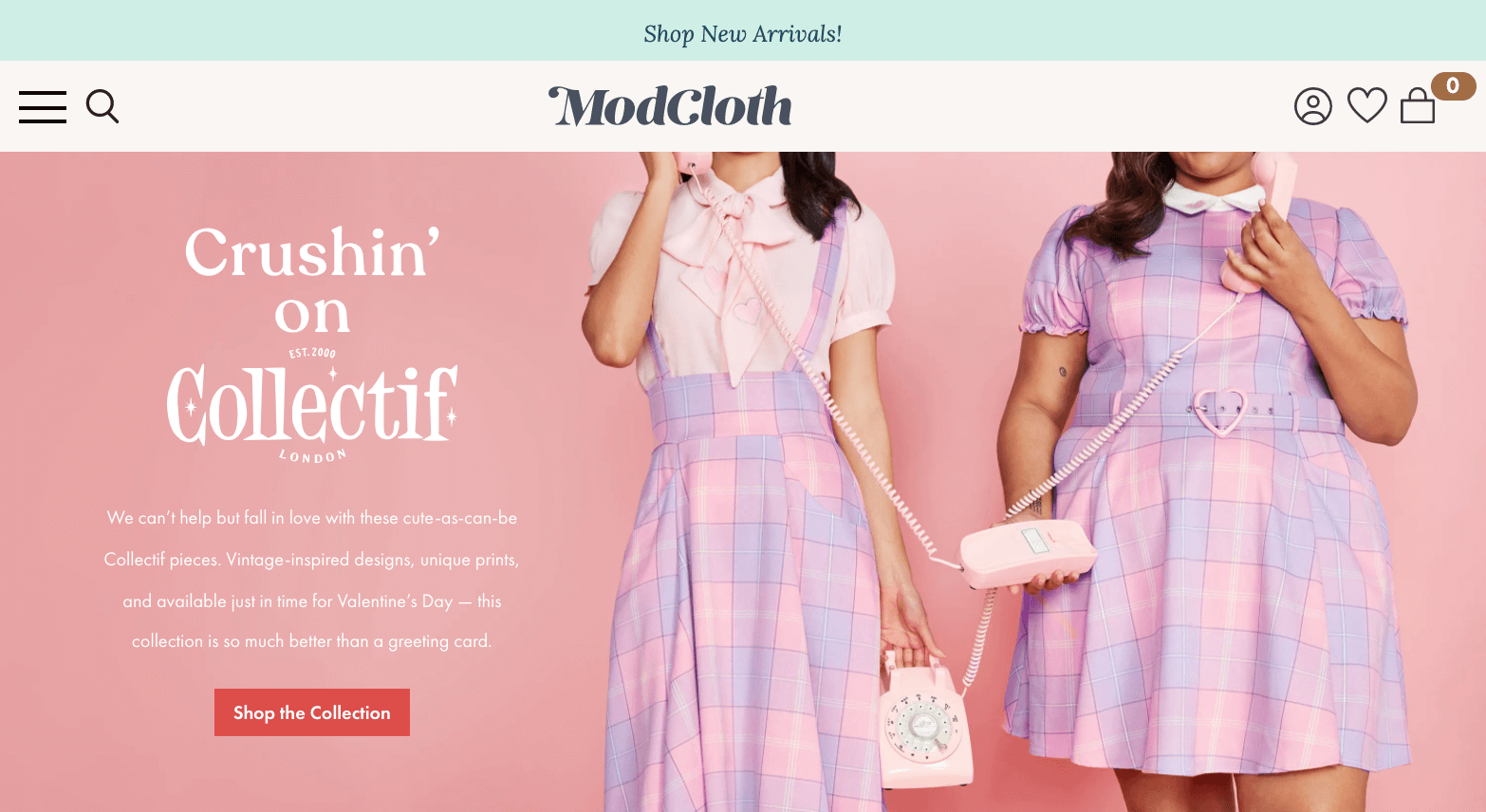 ModCloth's site using a 'soft pop' or vintage but still minimalist style.
Ecommerce Content Marketing Trends and Inspiration For 2022: Some eCommerce content marketing and social media creative ads tips for 2022
The year ahead will be an exciting one, and undoubtedly, competition will be fiercer than it's ever been. There are now many media formats and channels that eCommerce brands and retailers can't afford to miss out on.
Ecommerce Content Marketing Trends and Inspiration For 2022: The Wrap-Up
Here's a handful of take-home messages and tips for you to keep in mind:
To stand out and capture more shoppers, video reels on social media can become a core top-of-the-funnel marketing component. Key for these reels? Creative, entertaining, and original.
Video content should grab viewer attention immediately; people swipe and scroll through their timelines rapidly, so make videos that are easy to digest.
Being relatable and authentic is paramount to success, so where possible, storytelling should continue to form a key component of your brand. In combination with UGC, tell relatable stories that build up towards a climax — but deliver the climax fast.
Don't neglect the core component of what content your customers want to see; how-to guides in video or blog form, testimonials, and reviews are still relevant. But be bold, and don't be afraid to implement strategies such as meme marketing or reels.
Don't be afraid to experiment with designs that stand out, but continue to make them easy to scan and scroll.
To end the post, a small plug for our own product. Want to publish content that helps shoppers discover your products?
Publitas online catalogs are often in the top 5 pages of a retailers eCommerce site. Contact us, or sign up for our free 14-day trial here.