How Content Is Shaping: The COVID-19 pandemic has arguably been the biggest disruptor of consumer behavior since the beginning of the dot-com bubble; it shaped how businesses market, operate, and distribute their products and prompted businesses to become more customer-centric.
The food and beverage industry was no exception to any of these changes, and over the last 18 months, some grocery brands experienced record-breaking revenues.
Consumers who otherwise never would have used supermarkets' home-delivery services found themselves googling "food delivery" and related terms, with worldwide search volumes reaching record highs in April of last year.
Unsurprisingly, food order delivery apps like Uber Eats, Just Eat, and Deliveroo saw record-breaking order numbers, reaching $26.5 billion in sales revenue in the US alone.
And interestingly, two years before the pandemic, in 2018, a joint study conducted by the Food Marketing Institute (FMI) and NielsenIQ predicted that 70% of consumers would be grocery shopping online — perhaps that percentage is now even higher.
This shift in consumer behavior towards shopping for food and beverages online, instead of only at brick-and-mortar stores, has caused permanent changes in the way shoppers discover and buy groceries; the pandemic has paved the way for the digitally-engaged food shopper.
Grocery shoppers expect food shopping to be omnichannel, prompting supermarkets and convenience store chains to embrace the blending of on- and offline shopping experiences.
Supermarkets, DTC brands, and local food producers can engage with online browsers by serving them up inspiring content that resonates with their tastes, attitudes, and beliefs towards food and beverages.
And if done properly, grocery store content can leave food shoppers watering at the mouth, where they'll want to see even more content, become a subscriber, and eventually a loyal customer.
So, what kind of content are leading grocery store brands leveraging to drive product discovery, and how can your brand use it to win more sales? Keep reading* to find out the latest trends.
*You've been warned — after reading, you'll probably want a slice of the pie yourself (pun intended)!
Engaging and inspirational content aids product discovery and guides shoppers' purchase decisions
Content marketing for grocery stores and supermarkets doesn't only have to be about bombarding your customers with your latest discounts or weekly deals. Your content should make it easier for customers to discover new grocery products, give them meal ideas for what they can eat that week, or advise them on eating healthily.
Your content on different online channels can also help provide a seamless online shopping experience, where it's easy and convenient for shoppers to buy groceries.
Similar to how other industries wield the power of content, leading grocery store retailers have been tapping into how consumers behave online and supercharging their bottom lines with content that builds trust, loyalty and helps to generate repeat orders.
Other emerging online content marketing strategies for grocery stores focus on merging the online and offline shopping experience. The collection of consumer data combined with AI enables grocery stores to provide optimal omnichannel shopping experiences and offer personalized content or purchase suggestions.
Examples of great content marketing for grocery store product discovery
Shop the recipe
Popular with leading supermarket chains like Waitrose and Tesco in the UK, or Delhaize and its subsidiary brands elsewhere in Europe. Shareable, shoppable recipes have proven to be a big hit with customers looking for new, healthy meal ideas or something that'll go down well with guests when entertaining.
With shoppable recipes, browsers can seamlessly go from product discovery to adding products to cart — and all from within the same browsing experience.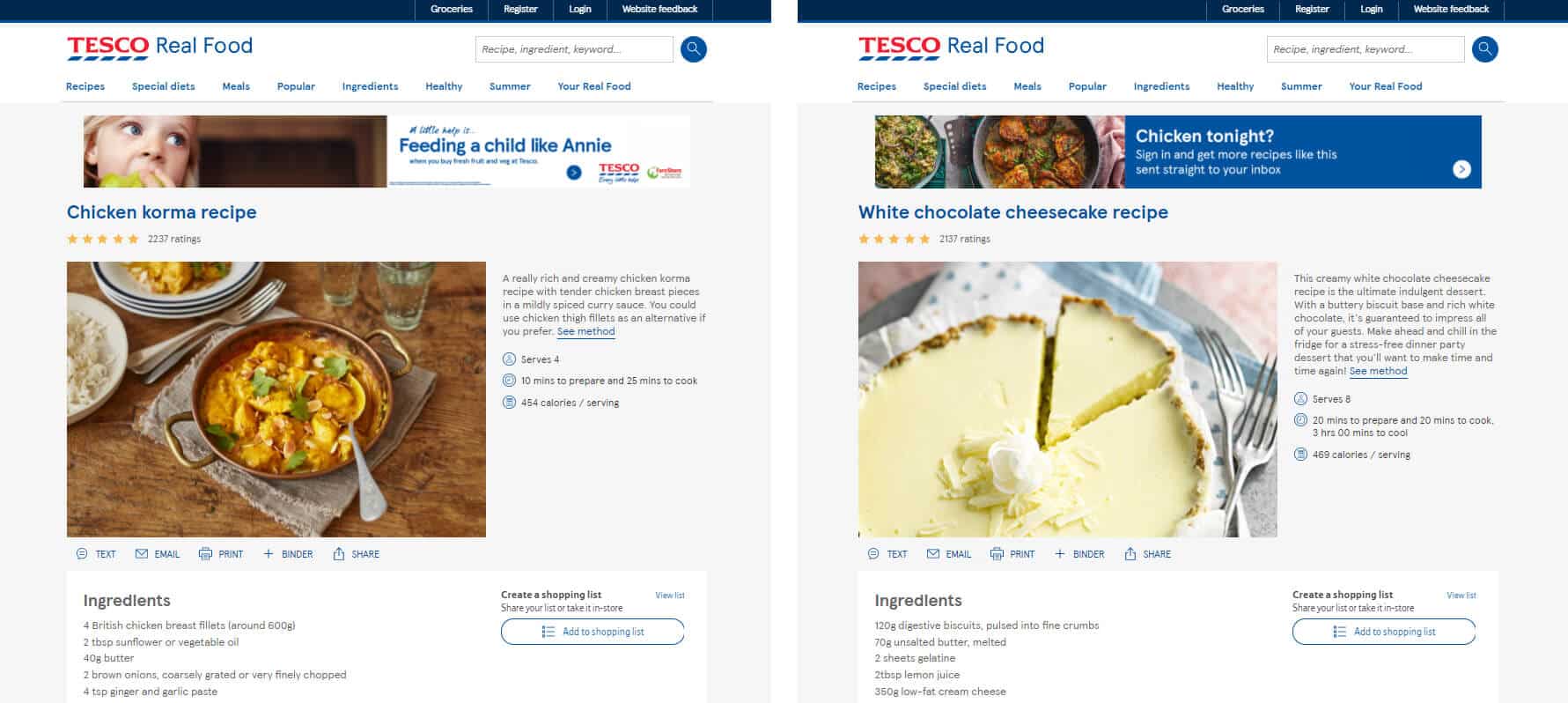 Tesco's Real Food subdomain is full of healthy, delicious, and visually stunning shoppable recipes (and user reviews), where shoppers can conveniently click "add to shopping list" to buy all ingredients.
Leading supermarkets are turning their websites into dining experience catalogs
With high-quality product images, informative video content, and categorized dining experiences — such as by occasion, event, or season — brands are transforming their stores' websites into a sensational grocery shopping experience for their customers to discover new tastes, cuisine, and treats.
For instance, Waitrose's website features an "entertaining" section with recipe and plate ideas to suit different occasions — such as afternoon tea birthday parties, or BBQs.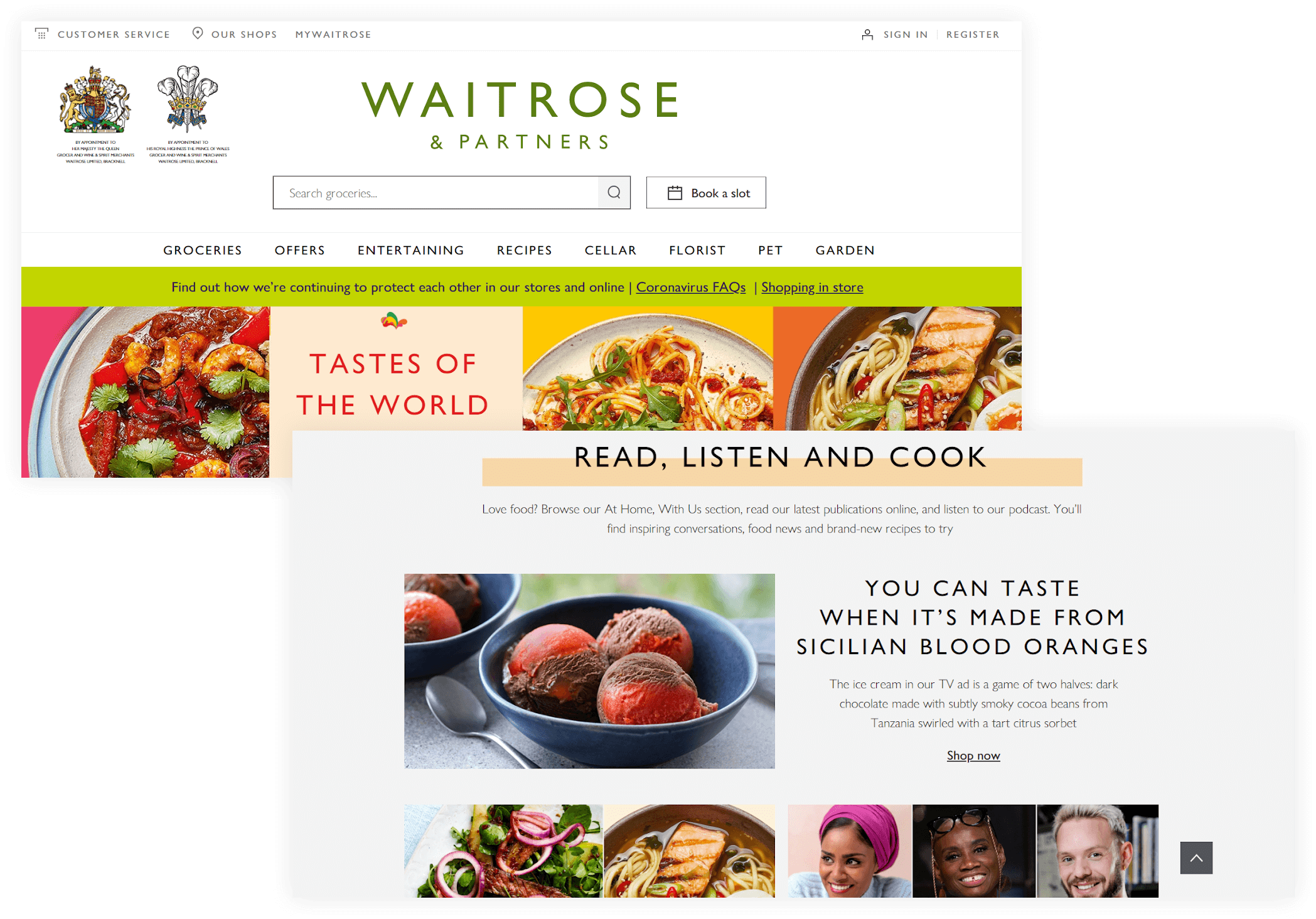 Waitrose's online store caters to its upmarket audience by displaying how food shoppers can be the best entertainers and make gourmet dishes that 'wow' their guests.
Similarly, Tesco Real Food groups its shoppable recipe ideas into different categories to cater to shoppers with different needs, such as:
Under 30-minute meals.
Budget meals.
Healthy meal ideas.
Special diets.
And more…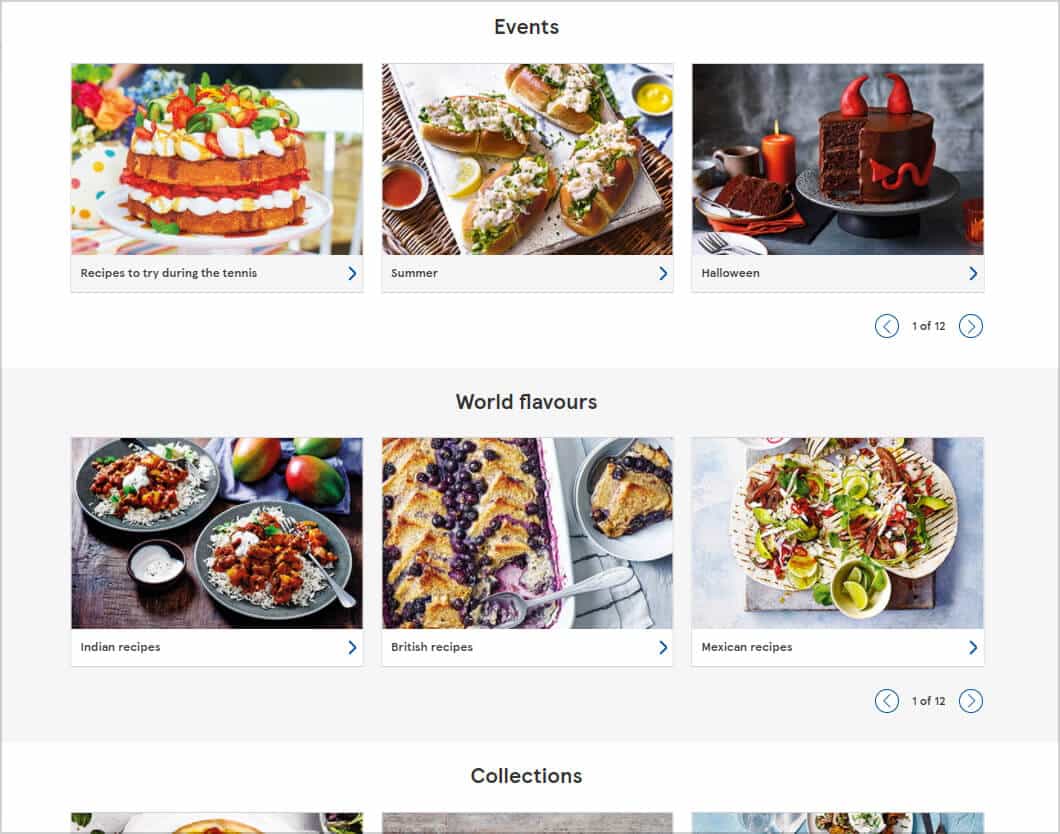 Tesco groups its recipes into different types of cuisine and collections to cater to every kind of food shopper and the varied nature of their tastes.
Your website doesn't have to be the only source of inspiration for your customers. Some supermarket chains in Europe have begun to realize the value of online catalogs, where the sky's the limit for the number of customers you can reach.
With Delhaize's online catalogs, browsers can shop directly from them and get inspired by the brand's stunning display of visuals, recipe ideas, and product suggestions.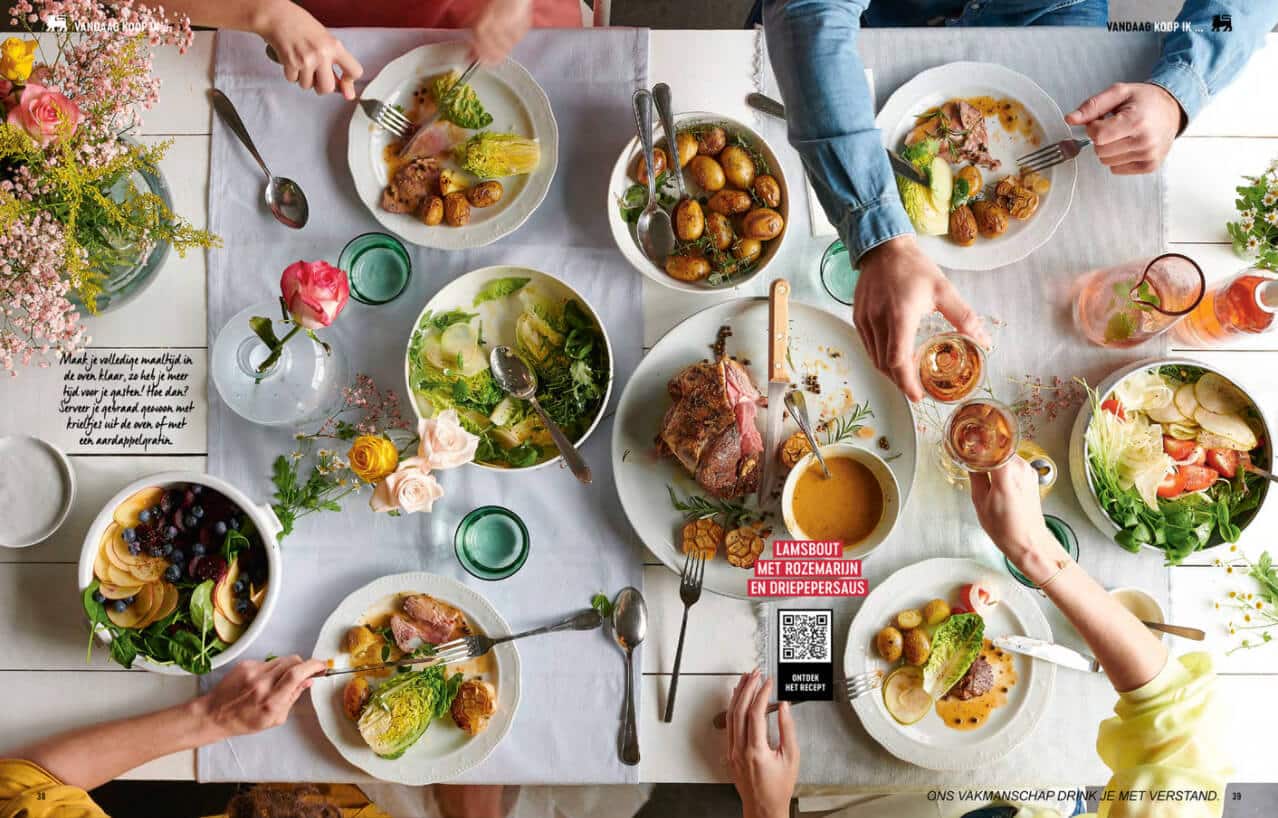 Delhaize's online catalog contains high-quality images, recipe ideas, and healthy-eating insights, driving shopper engagement and aiding product discovery.
Food and beverage brands can build greater levels of trust and loyalty with user-generated content (UGC)
User-generated product reviews, photos, and videos can be collected and shared anywhere — on your website, your Instagram page, or throughout your syndicated content networks — which all adds to the flavor of your brand identity and how grocery shoppers perceive it.
Brands that otherwise never would have sold DTC have opened up their own online stores on channels like Amazon and Facebook, where browsers can shop directly from the brand's store on those channels — and maximize the opportunity to garner user-generated product reviews.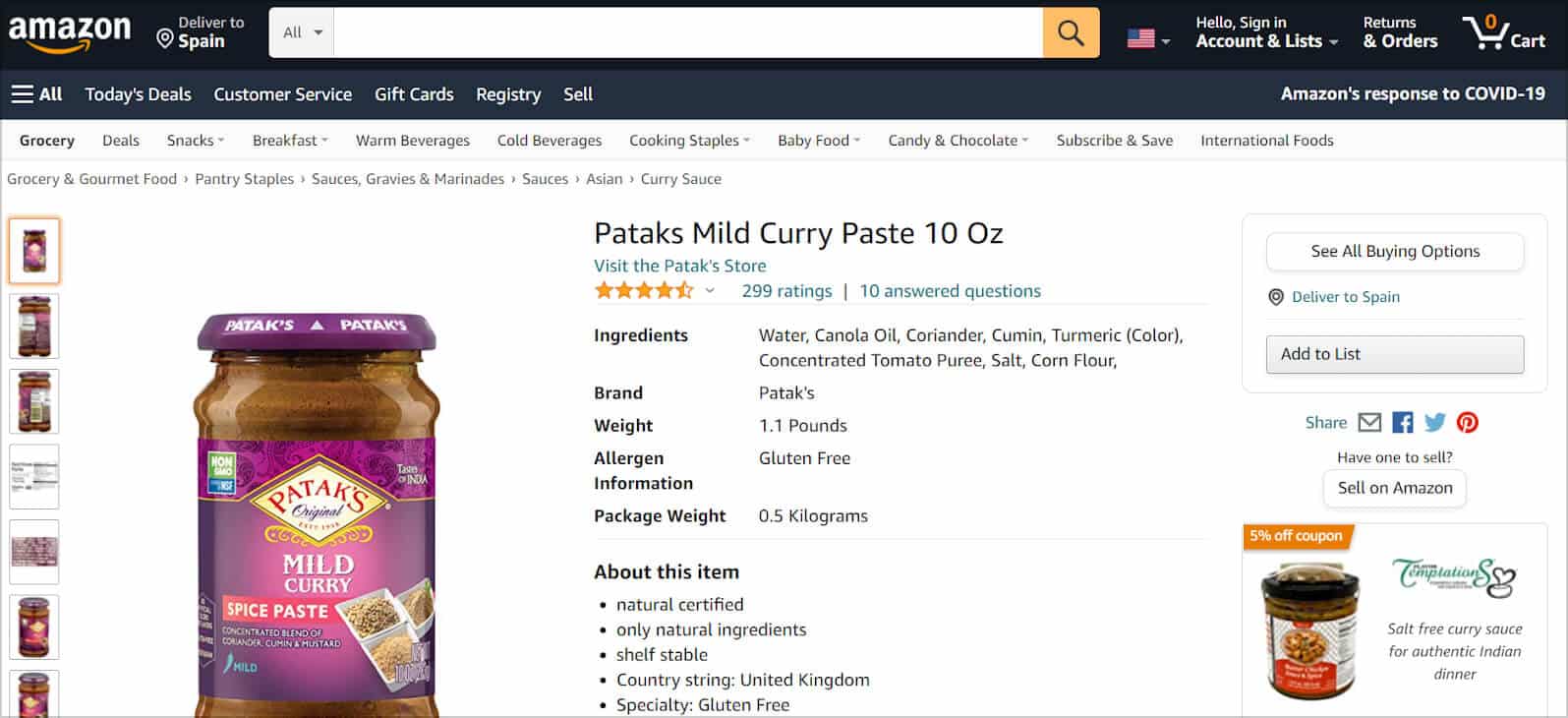 Amazon can serve as a channel for food and beverage brands to sell direct to consumer (DTC) and acquire mountains of product reviews that power their store's SEO performance.
Amazon is another channel for brands to collect user-generated reviews with images, providing visually-enhanced product reviews that serve as better social proof than those items that don't have them.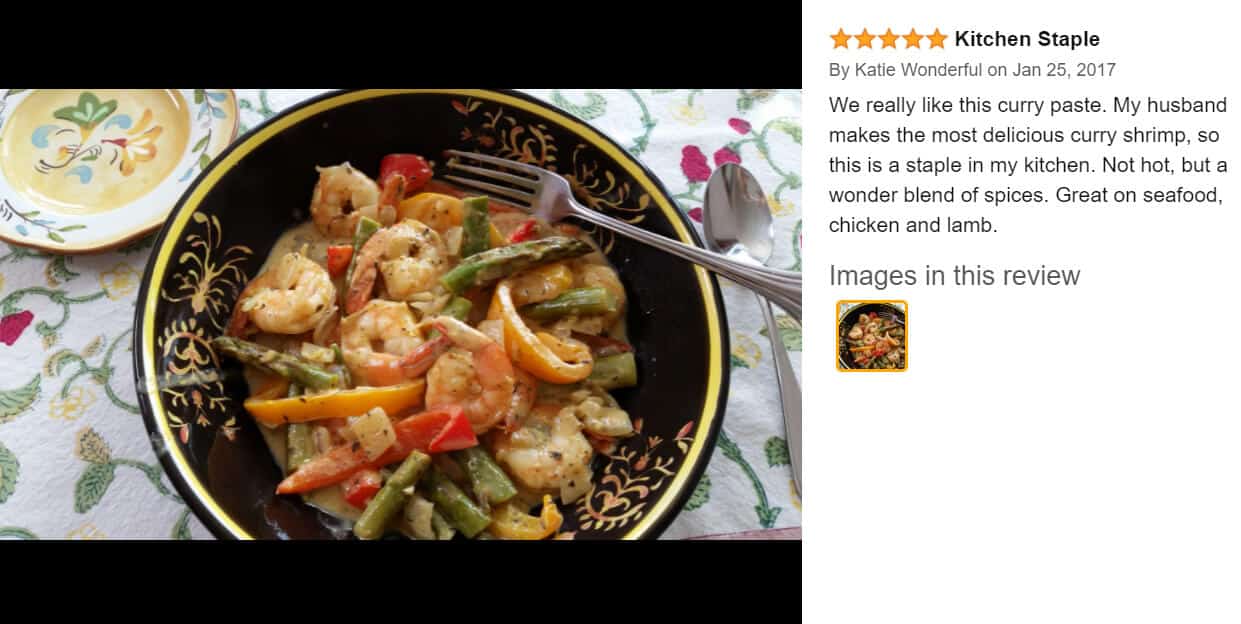 Platforms that allow shoppers to write user-generated product reviews with images provide better social proof of a product's quality.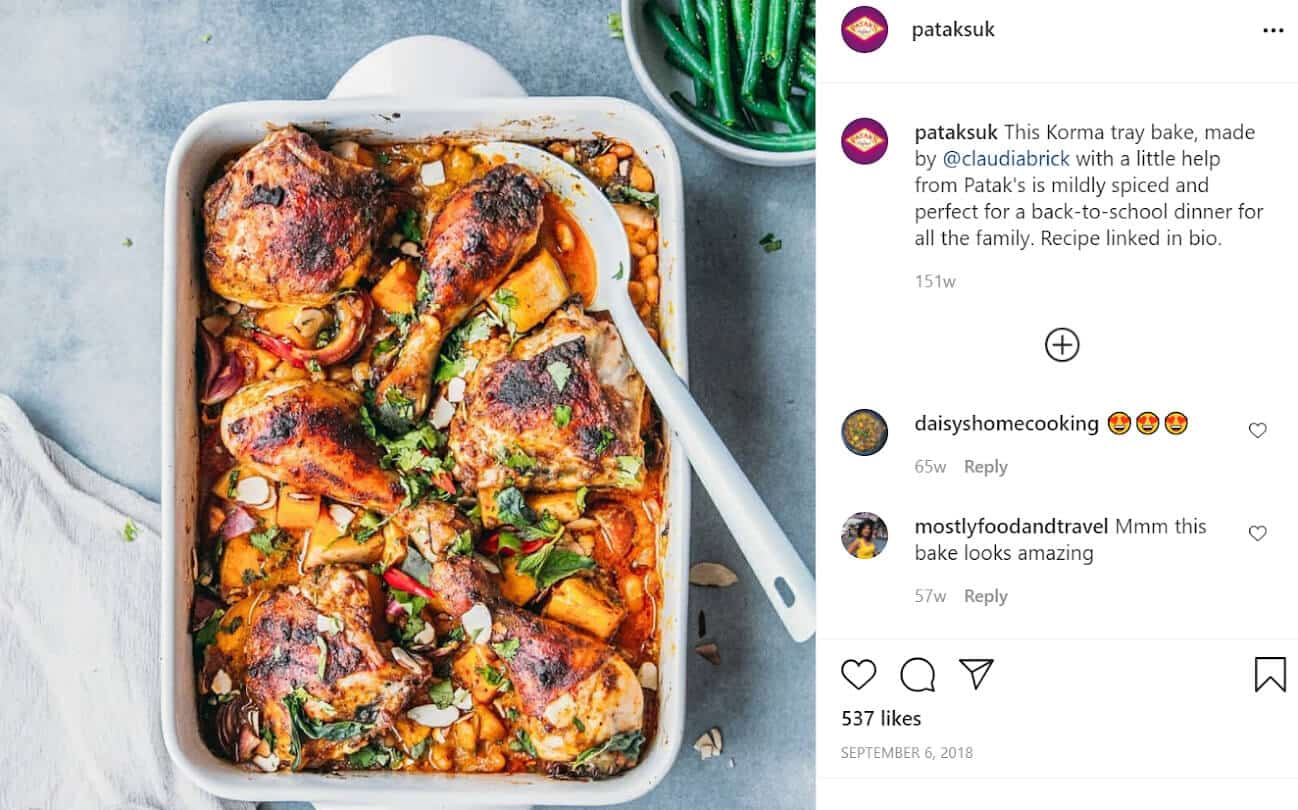 Food and beverage brands with a presence on channels like Instagram can acquire even more user-generated content and inspire more hungry food shoppers.
Digitally engaged consumers are now more likely to be interested in accessing product ratings and reviews in-store, and if possible, reviews and star ratings can be displayed in brick-and-mortar outlets.
Brands like Amazon Fresh display online customer star ratings and review counts on their electronic shelf labels (ESLs). By doing so, shoppers can make more informed purchase decisions and value the enhanced product discovery experience, guided by the social proof of what others say about the products.
Content is the driving force behind food and beverage product discovery
Shopping for groceries online via home delivery services was one way for supermarkets to offer their customers more convenient ways of shopping. Their websites were mostly transactional by nature and weren't optimized for product discovery.
But now, changes in consumer browsing behavior, online shopping expectations, and how shoppers decide to shop for food are heavily underpinned by the content they view before purchasing.
Whether by reading user-generated reviews, swiping through an online catalog, or getting inspired by a store's quick and easy healthy-eating recipes, it's the content that people view that can guide them towards discovering new products and making their next purchase.
Interested in publishing your catalogs online? Contact us, or sign up for our free 14-day trial here.