Shoppable Content: The retail landscape has changed drastically in the last few years. The digital revolution has significantly revamped how we shop. It isn't simply a matter of shopping online instead of in-store, but how brands curate the entire online shopping experience. Ecommerce isn't limited to websites anymore. Shoppable content is on the rise and brings the shopping cart to wherever the customers are.
Lookbooks, magazines, and blogs have changed with the times. They have moved towards shoppable content that is more interactive, engaging, and yields better results. With shoppable content, you can create a memorable experience and reduce the steps needed to make a purchase.
67% of all global eCommerce transactions in 2019 were made using a handheld device. Your consumers are mobile and constantly being bombarded with content on social media. If you're looking to reach your audience, shoppable content can help you engage your customers in online shopping directly from within the content they're viewing.
This integration of social media, content, and eCommerce is so successful because it hastens the progression to the shopping cart. You can click on a product in an image, video, online catalog, ad, or a link in a blog to add the item to a cart and checkout. The direct link from content to cart means more traffic and conversions.
Shoppable content will soon become the backbone of social commerce because it makes your customer's shopping journey shorter and improves the customer experience, not to mention that conversions and click-throughs are more measurable. Here are the five most popular kinds of shoppable content that can truly supercharge your eCommerce efforts.
Shoppable articles
Written content has a lot of scope. It can be assisted by visual content, but even on its own, if it's well written and optimized, it can be your most significant digital asset. You can use it to write valuable and informative content. Customers are always looking for solutions to their problems, and if you can write content in a way to advertise your products successfully, you can slide in a link or two that can do wonders for your sales numbers.
You can add buttons leading to your product page and link the images you use as part of your design. Have a "buy it now" option so the reader can add the product to the cart while they continue reading. A great example is this article by Louis Vuitton on Chiara Ferragni and her choice of shoes. All the shoe images are shoppable.
Another way to add content is to use your voice of the customer tools to generate customer feedback. Use these customer reviews in articles to reduce hesitation and have customers shop while engaging with your content.
Shoppable articles build a bridge between your eCommerce store and a content platform. It can be your own blog or a third party. There are thousands of websites where you can publish content, which means that written content can bring you impressive traffic if distributed strategically. With minimal investment in the written word, you can expect a high return on sales with shoppable articles.

Screenshot from the shoppable Louis Vuitton Website.
Shoppable photos
As mentioned above, you can link visual content to your eCommerce store. Images are a popular form of visual content because they can influence prospects to become buyers when showing your products in the right setting and context. Shoppable images are a perfect form of shareable and shoppable content because the visual aspect combined with a seamless path-to-purchase make for a powerful sales driver.
Your images will have hotspot marks that will take the customer to checkout when they click on them. It lets consumers act upon buying intent right away. Using pictures for shoppable content allows you to upsell and cross-sell many products together. If you show a whole outfit in an image, customers can proceed to buy the entire set instead of, say, just the shirt.
The Patrick James fine menswear online catalog lets customers shop directly from the images, making the checkout process faster while removing hurdles in the customer journey.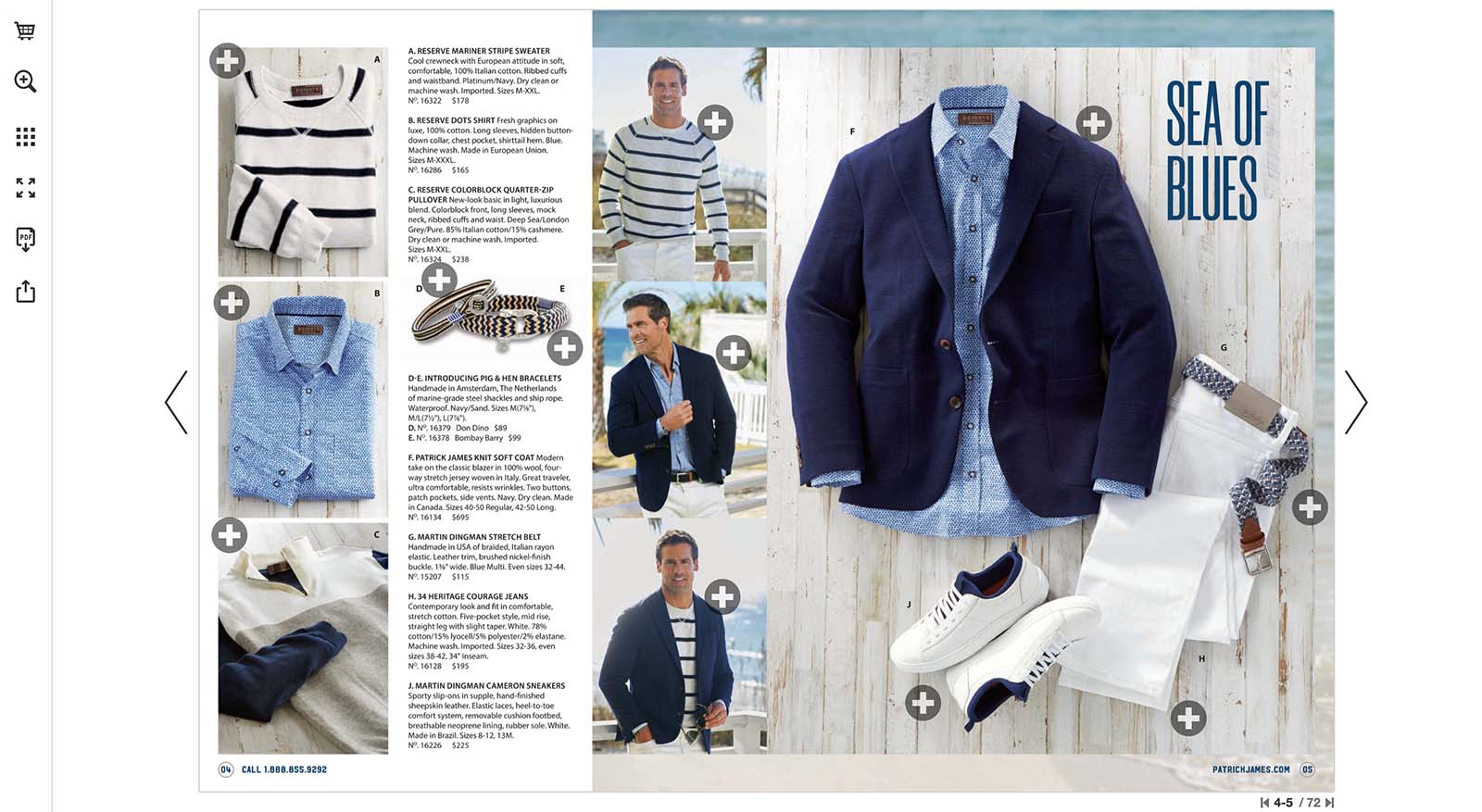 Shoppable video
Shoppable video is an effective way to deliver shoppable content. Video engages more senses, it's more interactive than a still image, and it can grab and retain attention. Shoppable video content can also be extended to live video, creating a two-way consumer communication experience. You can make live sales while engaging with your customers and increasing your brand's exposure.
With live video or pre-recorded video on YouTube, you can insert links that take the viewer directly to the product page to proceed with a purchase. You can increase conversion by 80% using videos as they're a powerful storytelling tool combining audio and visual content.
You can also go for user-generated content to increase your conversions. You can make real customers' videos shoppable. For consumers that need social proof, seeing real people use or wear your products can be the game-changer you need. YouTube should be your platform of choice to make videos shoppable. According to Google, 63% of YouTube viewers have bought from a brand after watching a video on YouTube.
84% of people have been convinced to buy a product after watching a video.
Now imagine that shoppers can watch other consumers using your products, and you make it possible for them to buy those products right away.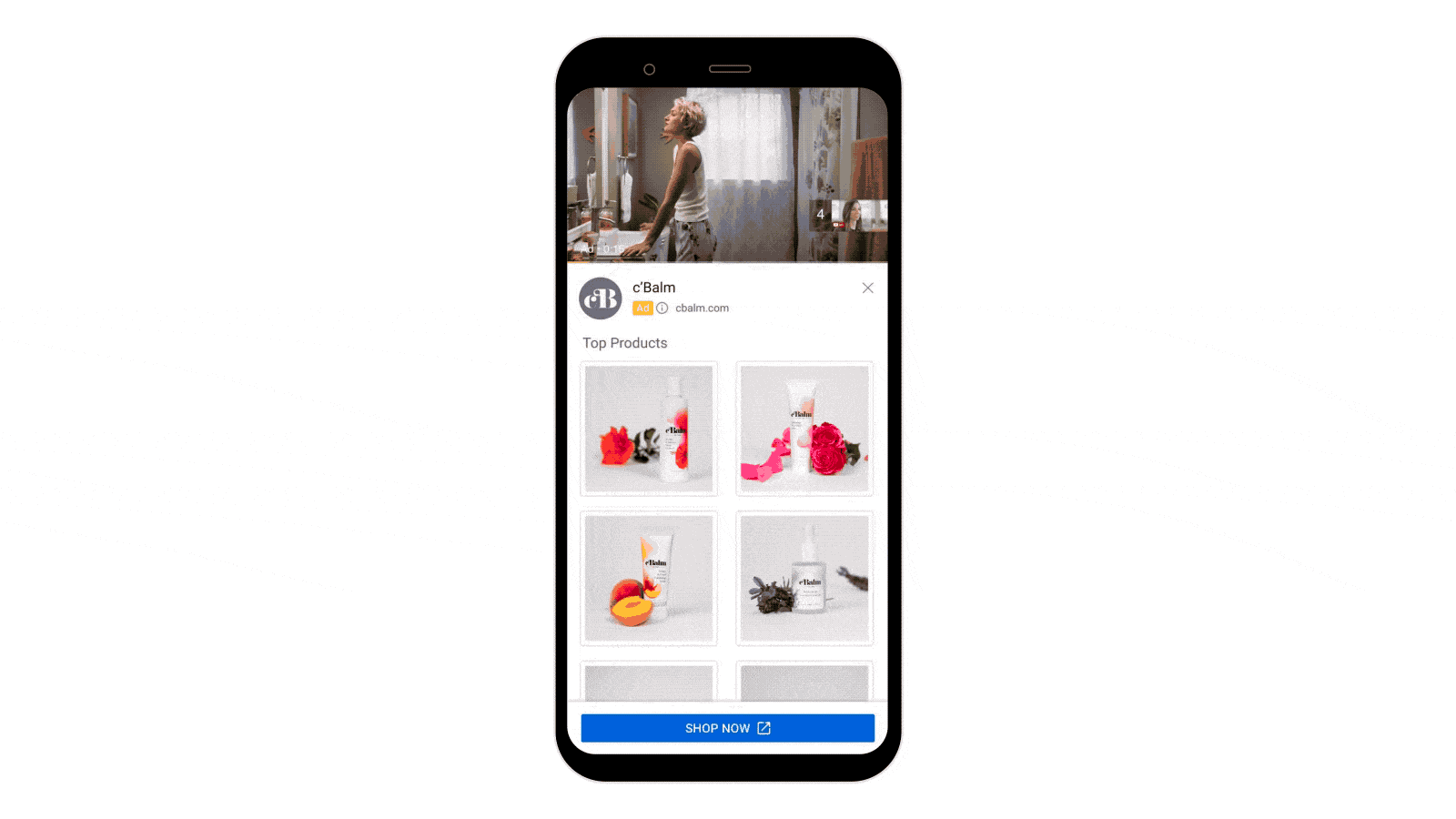 Social shopping
With any of the above; articles, images, or video, the most significant impact is when you use them on social media. 73% of businesses are already selling on social media platforms. Luckily, social media sites like Instagram, Facebook, TikTok, and Pinterest allow you to publish shoppable posts. You both boost your social media profile and use the posts to take your audience shopping — what a way to kill two birds with one stone.
The shoppable posts on social media are clickable and offer a shopping experience that doesn't disrupt the browsing sessions. 54% of people in a survey said they bought items moments after seeing a product on Instagram. If you make these products clickable and take them directly to checkout, it takes the legwork out of a Google search to the checkout process.
Social media has completely blurred the lines between content and commerce. Shoppable content on social media includes:
Feed posts with images. Pinterest has buyable Pins.
Stories. These can be videos or images.
Reels. These are short videos made famous by Tiktok.
Videos.
Live shopping on Twitter is a new initiative by the social network to support social shopping. It helps create a seamless live shopping event that lets them shop and watch the merchant's live stream.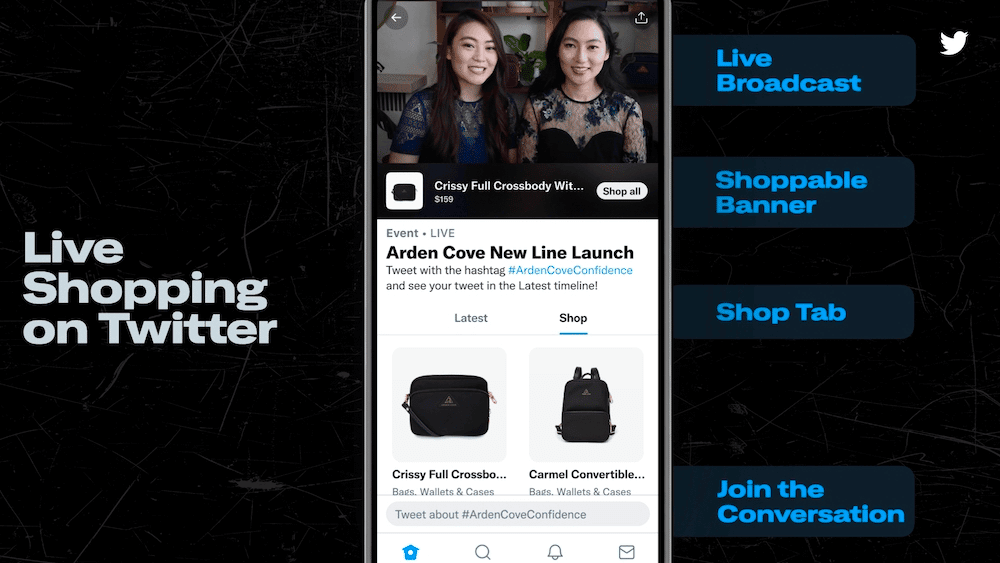 Shoppable ads
Gone are the days of ads with toll-free numbers and website domains blinking, asking the customer to contact you. These days you have to go to the customer because that's exactly what your competitors are doing. Your ads aren't just a tool to increase brand exposure. They're not only for marketing your brand; they're now another powerful weapon in your sales arsenal. Shoppable ads are a great way to bring in traffic and conversions.
A shoppable ad is usually a video, and it is an exciting opportunity to showcase your products to your customers. It takes a while to build a social media following organically; the easy way is to buy shoppable ads and use those to take your customers directly to your eCommerce store.
These ads can be images, too, especially interactive scrollable images that allow customers to scroll through a catalog. They resemble your social media feed and allow your consumers to make a purchase through the ad.
Instagram Shopping allows you to create your product catalog with product details and images so people can shop them. You can tag your products in your stories, reels, and videos to make them easier for people to buy. You can also run ads with product tags and set up promotional offers on Instagram.
You can use a product recommendation engine to offer product suggestions and predictive offers through your ads. Ads can also be used to advertise special deals and discounts.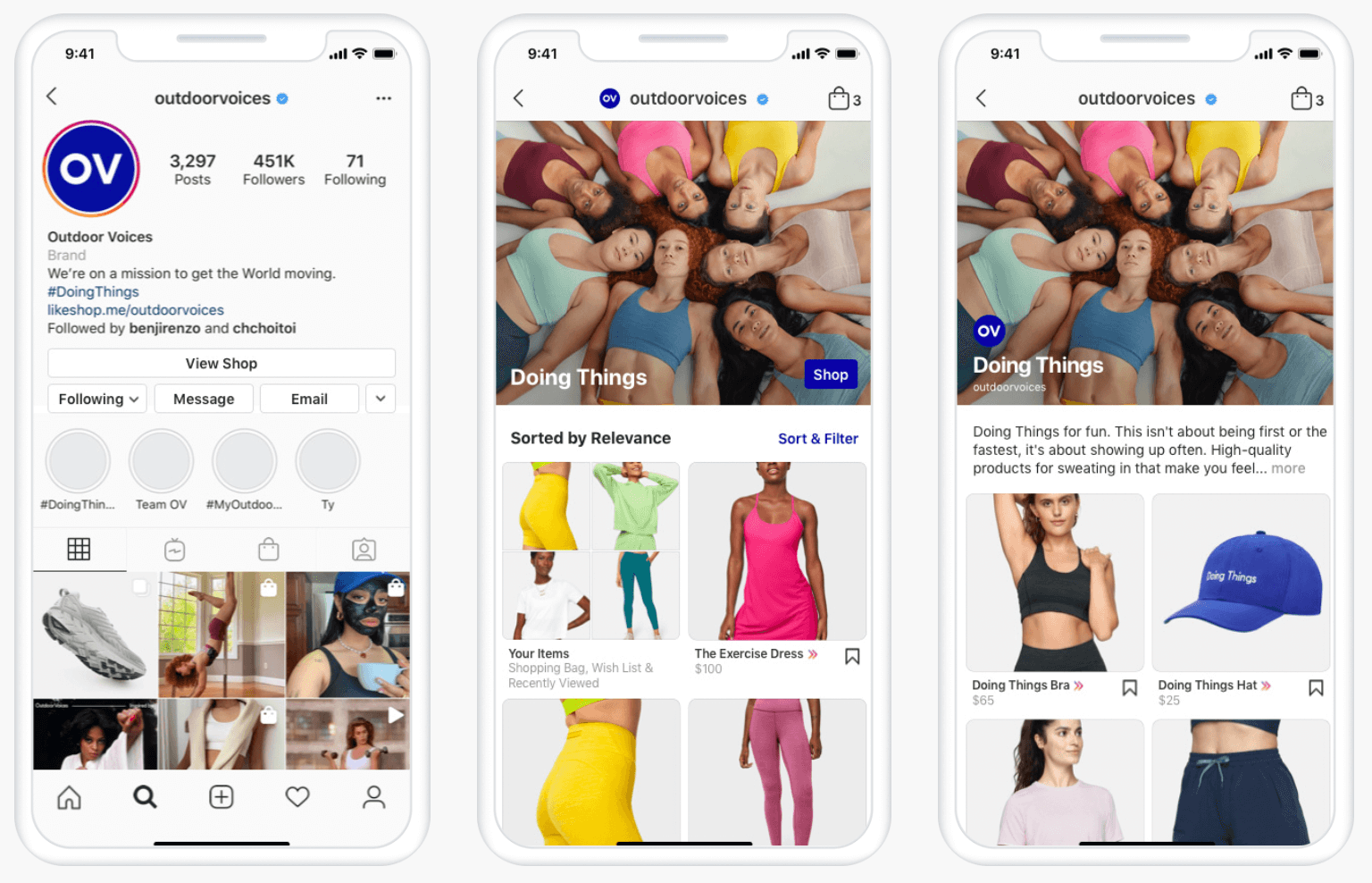 Shoppable Content: Make the journey from inspiration to purchase seamless
You can harness shoppable content across all verticals to make it easier for consumers to explore and shop. When you combine content with eCommerce, you're giving yourself the perfect opportunity to be present where your consumers are. You don't have to go out of your way to bring them in and then push them through your conversion funnel.
Shoppable content can be a major money-churning part of your sales campaign. Just like your other promos, don't forget that your content should reflect your brand values. Knowing which shoppable content works with which audience demographic is also important. For example, Generation Z is on Instagram more so than millennials. Choose your content strategy depending on your target audience.
The digital world is a dynamic environment. Trends come and go. Shoppable content, however, is here to stay. The benefits and the convenience it offers are unsurpassable.
The instant gratification of being able to buy something the moment you like makes for an exceptional customer experience. Shoppable content is eCommerce getting one step closer to replicating the physical store experience for shoppers. It sets new standards and revolutionizes online shopping by making content interactive in real-time.
Interested? Feel free to contact us, or sign up for our free 14-day trial here.
Written by:
Jessica Day – Senior Director, Marketing Strategy, Dialpad
Jessica Day is the Senior Director for Marketing Strategy at Dialpad, a modern business communications platform and cloud PBX phone system that takes every kind of conversation to the next level—turning conversations into opportunities. Jessica is an expert in collaborating with multifunctional teams to execute and optimize marketing efforts, for both company and client campaigns. Here is her LinkedIn.