Digital Publications: There are countless digital channels and platforms for brands and retailers to market their products on — Amazon, social, search, paid media ads, email, etc. Each channel serves as a touchpoint in your marketing funnel to guide shoppers towards a purchase.
Shoppers regularly return to online channels they enjoy engaging with and where they can consume content that's of value or interest to them; your periodical, digital publications with curated content are no exception to the rule.
You can distribute or embed online catalogs on many channels — channels with an abundance of top-of-the-funnel shoppers, who aren't sure what they want to buy, and who are discovering online content.
In this post, we give you an overview of channels where you might want to distribute your digital publications. We also share some tips, examples, and techniques for you to keep in mind when doing so.
Your digital publications as a top-of-funnel content asset
One of the biggest and most powerful applications of your digital catalogs, flyers, or lookbooks is their capability to serve as a top-of-the-funnel marketing channel, where shoppers can discover your brand, its products, and its inspirational editorial content.
Often, webshops aren't optimized for shoppers who just want to look and browse through your content or discover new products.
But periodic, digital publications will help you keep those browsing shoppers returning, as they can conveniently browse or shop from a bundle of digital content.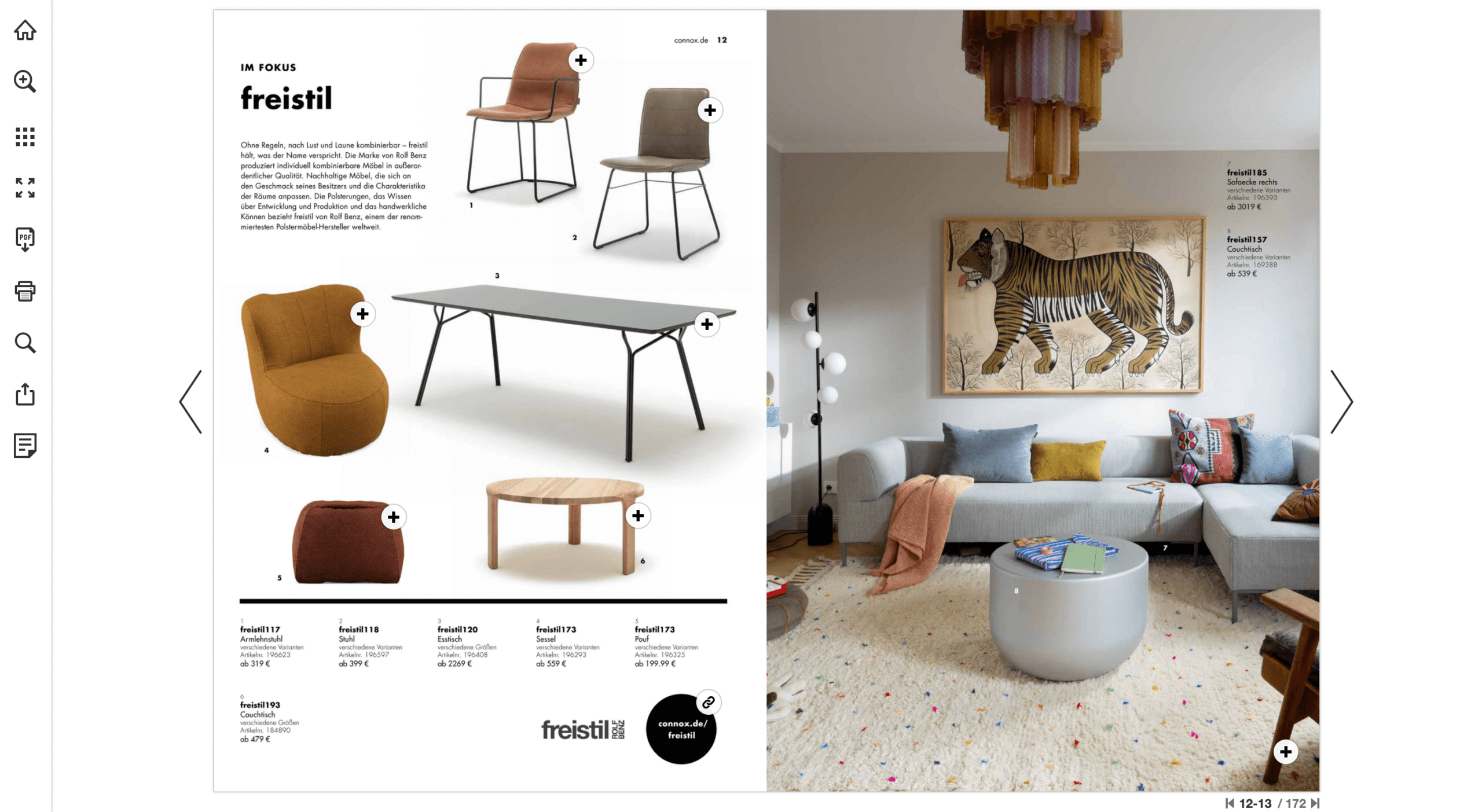 Connox's shoppable catalog.
Target your paper-based catalog audience with your digital publications
Before the eCommerce boom, retailers mailed out their paper-based catalogs to customers' home addresses or left them in-store for customers to pick up as they passed through.
Shoppers would often eagerly await their favorite retailer's periodical printed catalogs or magazines.
But times have changed:
Now, the majority of product research takes place online first. It makes sense for both customers and businesses — which are under growing amounts of pressure to toe the line in meeting global 2050 net carbon-zero targets — to target your paper-based catalog audience with your online publications.
If you're a brand or retailer who has always been heavily reliant upon print to target your loyal customer base, it's better to transition gradually to a digital-first strategy. Build up the reach of your online channels first.
Here are the main channels for you to consider:
Your website
A significant proportion of visitors to your website won't subscribe to your other channels, such as your social media pages or Facebook shop; instead, they'll prefer to go to your store's website — and shop from there. So, an excellent channel for your online publications is on your website or webshop.
Some shoppers might go to your site every week and browse through your weekly ads and deals, so it pays to make it easy for those bargain-hunter-type visitors to find your latest promotions.
For some brands which operate in the food and beverage industry, weekly flyers of their latest discounts and promotions on selected food or drink products are something their customers look forward to.
Here's an example of a grocery retailer which embeds them into a dedicated section of their website: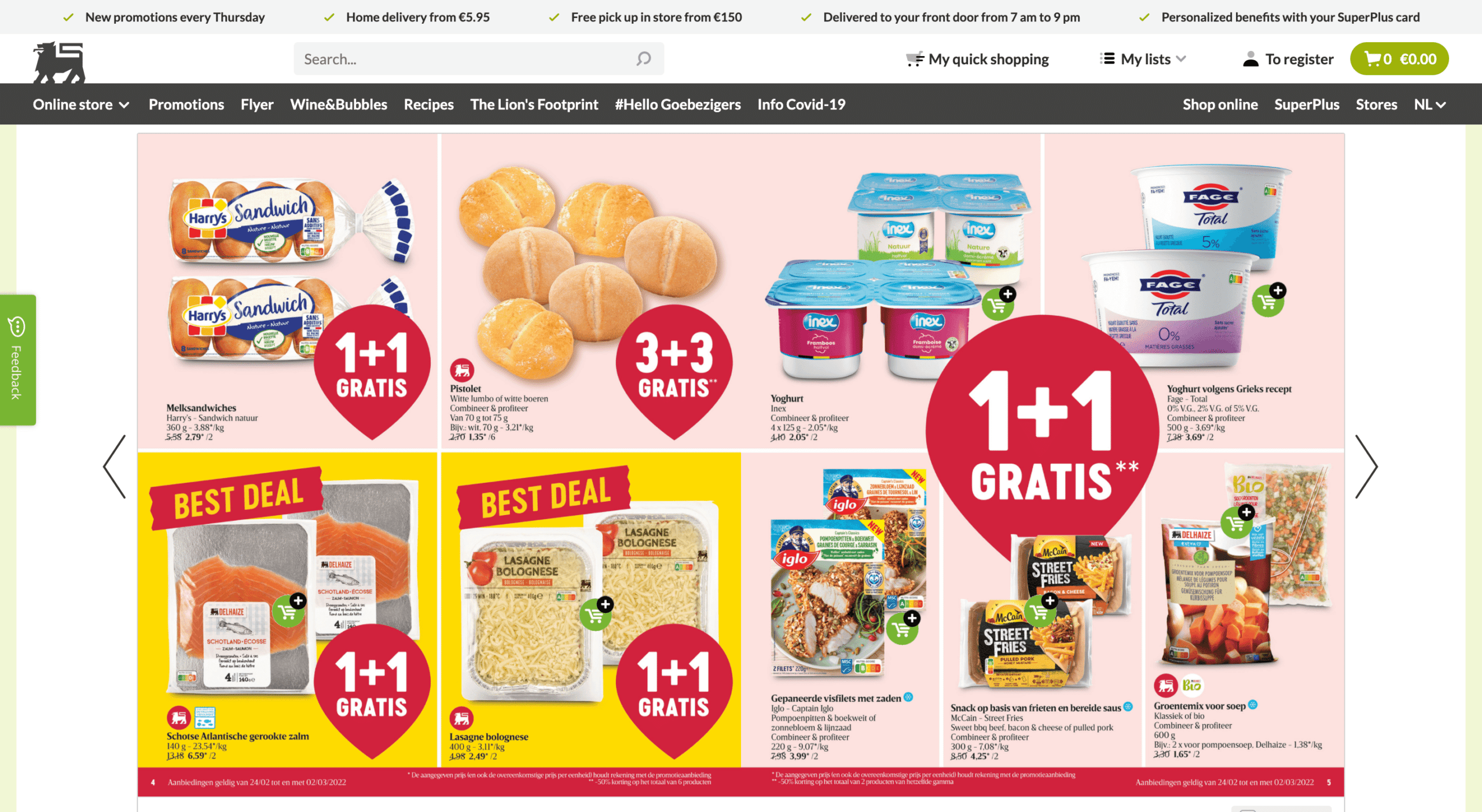 A dedicated section of a grocery brand's website containing their latest deals and promotions.
When customers shop groceries from a digital flyer, they can easily browse and shop directly from the publication by adding items of interest to the cart or wishlist.
And similar to how grocery brands have a dedicated page on their website with their latest publications, some fashion and apparel brands collate their publications or lookbooks for shoppers to navigate and browse through: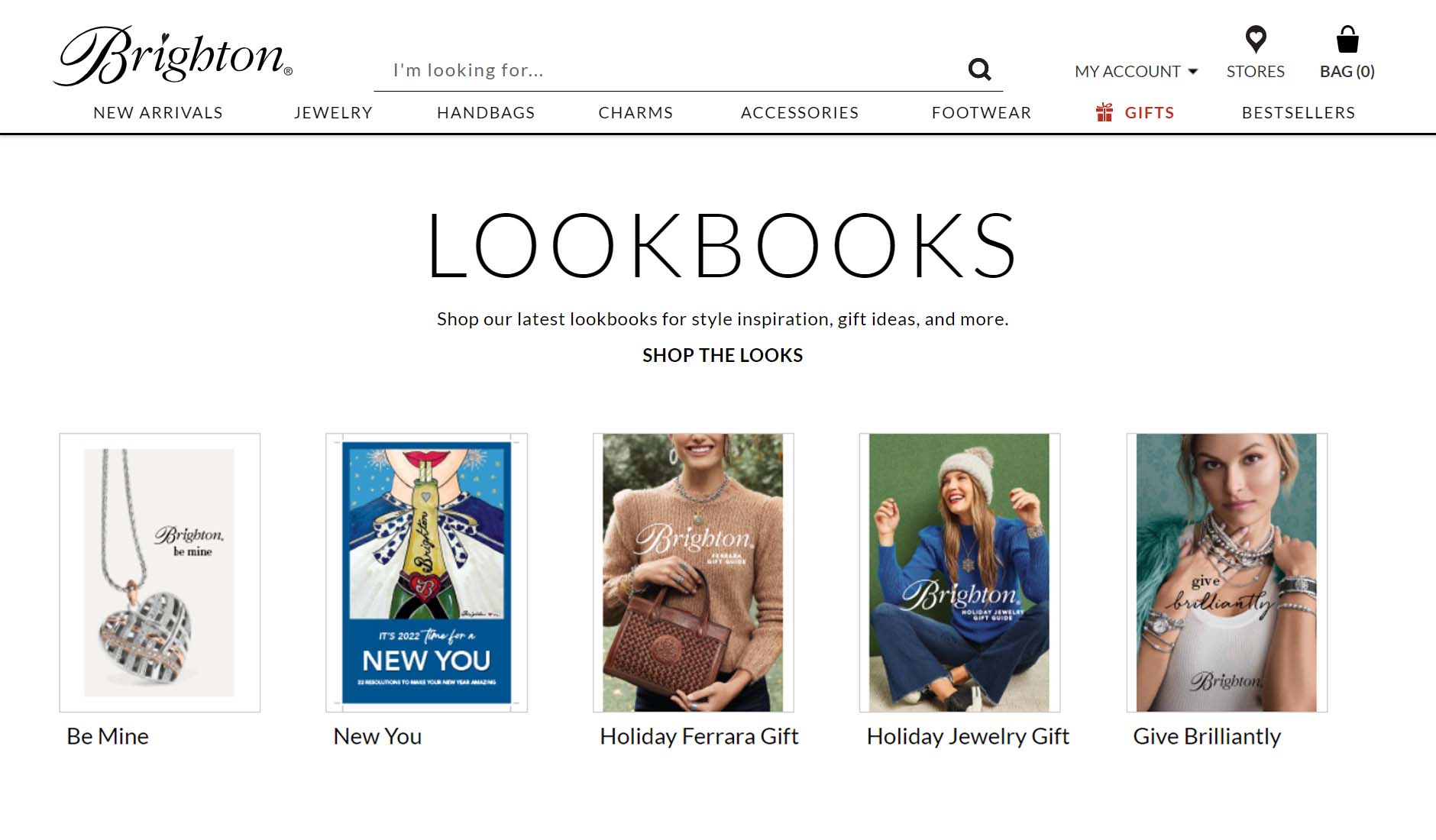 A jewelry brand's lookbooks.
When brands bundle their digital catalogs or flipbooks together within a page, it can turn that part of their website into a mini discovery marketing channel for shoppers to look through, and with great thematic special content: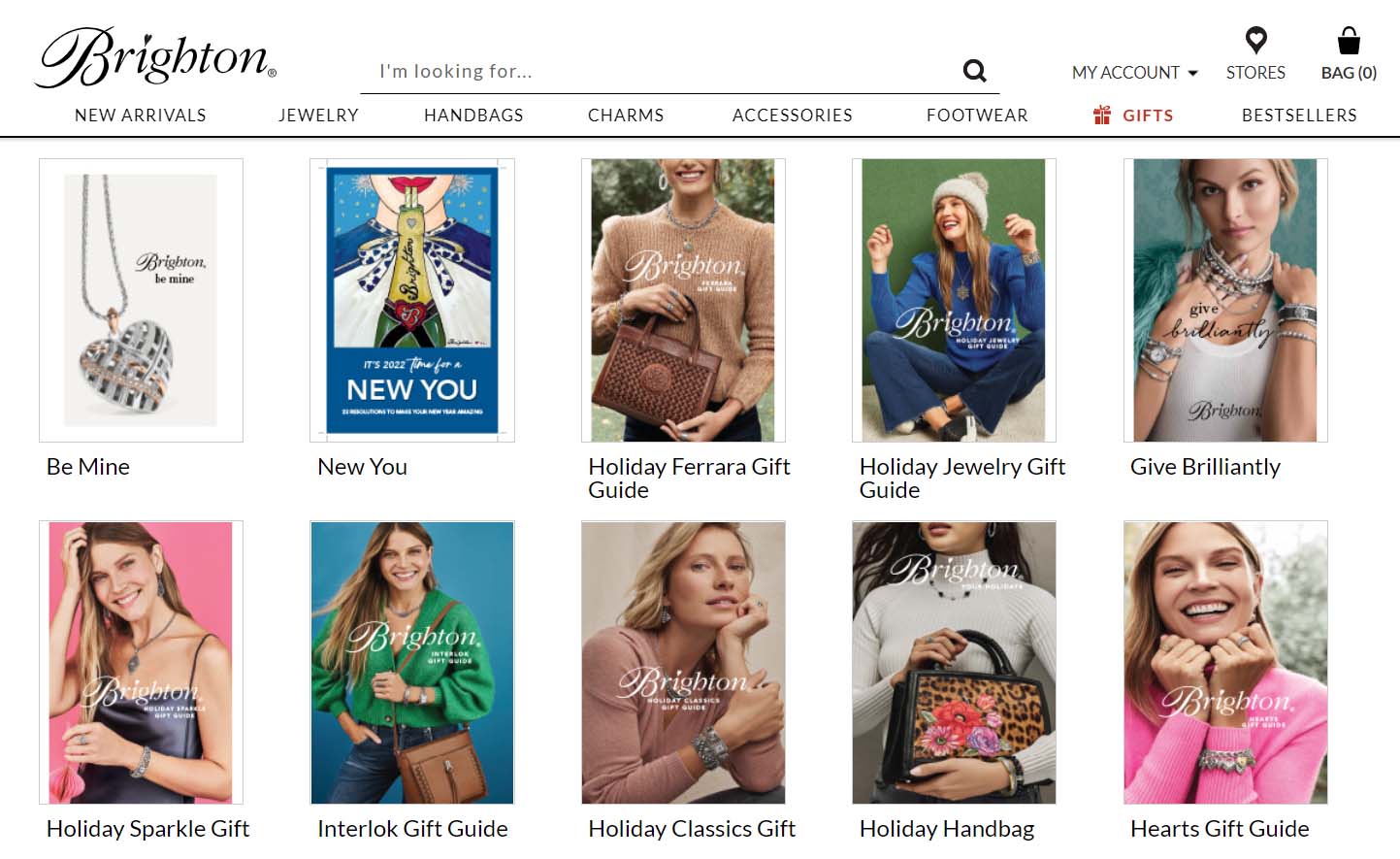 Scrolling down Brighton's site, we see more publications targeting a variety of segments, seasons, or holidays.
Email
Email can be one of the most cost-effective and high-converting digital marketing channels out there. For every $1 you spend on email marketing — you can expect an average ROI of $42!
Moreover, adding interactive content to your emails, such as video, can increase CTR rates by as much as 300% (Oberlo).
Similarly, an email with your digital catalog embedded inside — full of rich media content — could super-charge your email marketing campaigns and give your customers much more than just an email with some text and a few images.
And remember — promotional emails are something your customers want:
In 2017, Statista reported that 49% of consumers would like to receive promotional emails from their favorite brands every week. The vast volumes of traffic and conversions you can get through email campaigns are from shoppers who want to be notified about your latest digital issues via email — especially if they're already subscribers on your mailing list.
It's also worth considering that some visitors to your website and social media channels will skip its content. But with email campaigns, targeting can be highly personalized — you can add your digital catalog to abandoned cart emails, welcome emails, browse abandonment emails, etc.
Butlers promoting their catalog in their newsletter.
Social Networks
Distributing on social networks is exciting. You get the chance to engage in a conversation, and people will share your content with their network if they find your content valuable. It allows you to measure your success in more interesting ways than plain visitor statistics.
Because you are distributing your online publications in a much noisier environment, it pays off to be noticeable. It also allows you to do more than merely post a regular update.
For example, here's how some of our customers share their catalog on their social channels.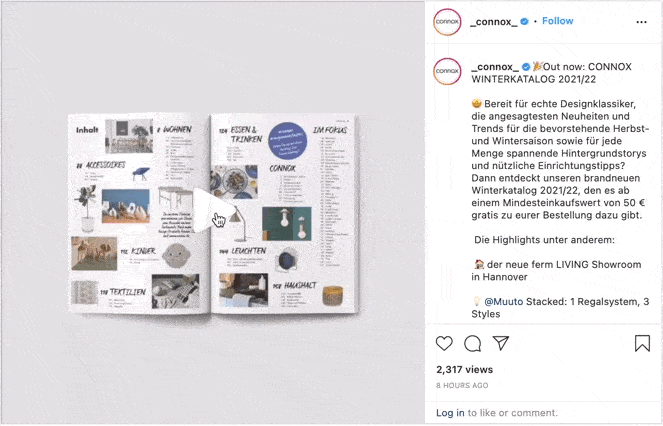 Connox sharing their catalog through an Instagram post.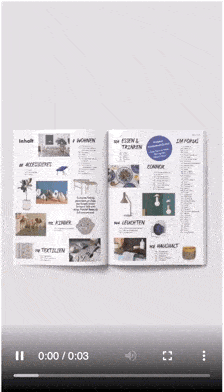 The same catalog, but shared as an Instagram story.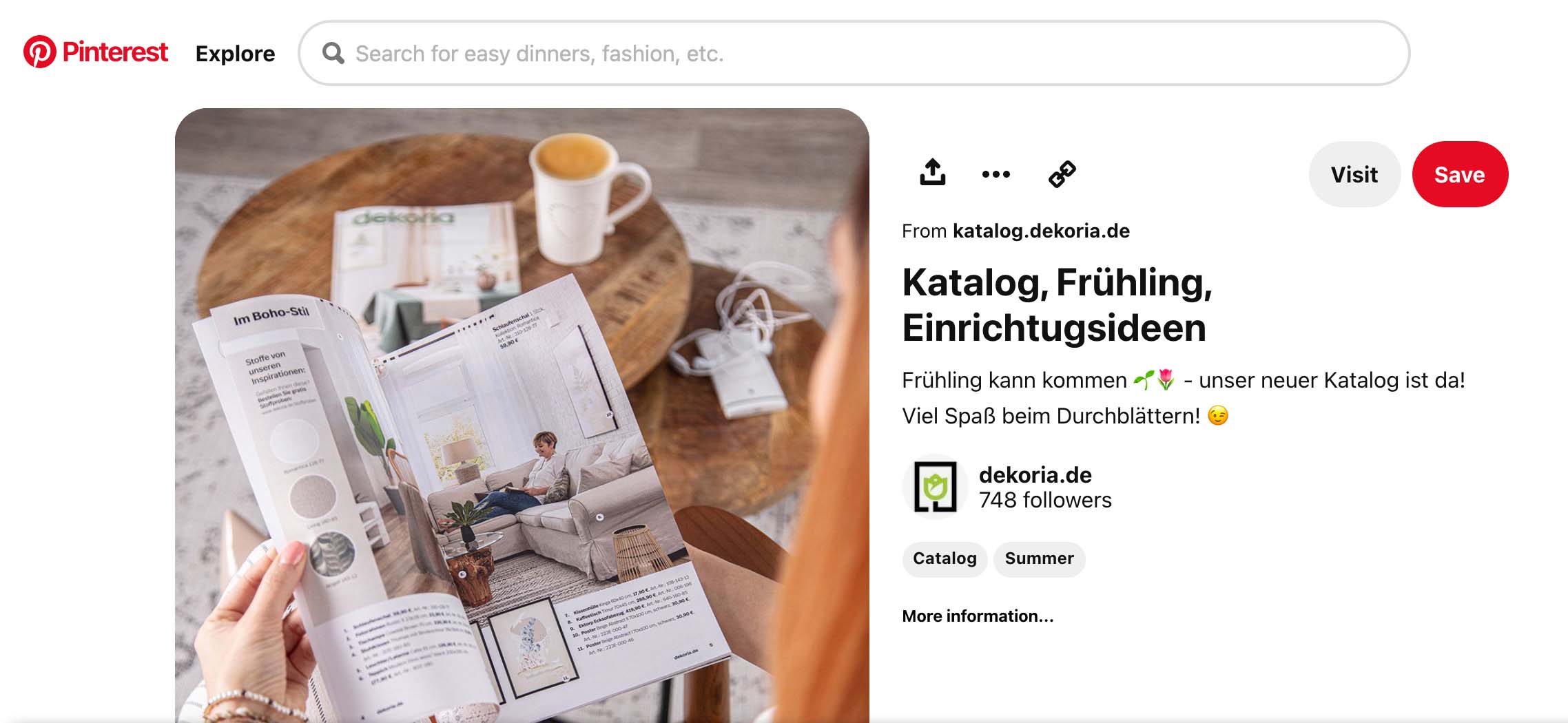 Dekoria sharing their catalog on Pinterest.
Mobile Apps
With Publitas, your online publications seamlessly integrate with native iOS and Android apps. You can combine the benefit of having your content viewed through a branded native app (launched on a user's mobile home screen) and always offering up-to-date content.
Here's an example of Albert Heijn's mobile app with their bonus flyer embedded: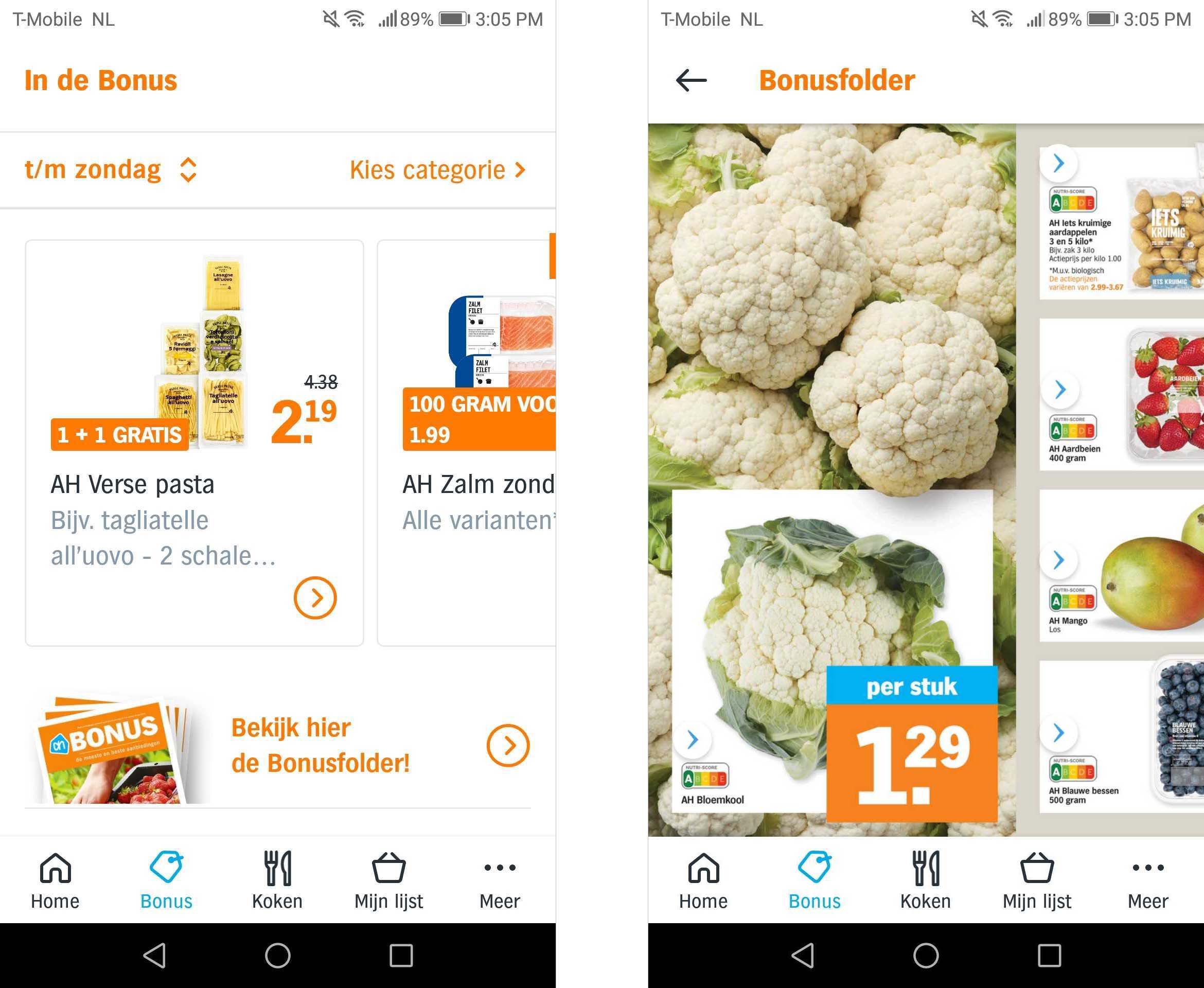 Albert Heijn's flyer in their mobile app.
And not forgetting the power of search…
This channel won't be of much of a surprise to you: Google and other search engines are channels for distribution in their own right. If you create your publications with Publitas, we make sure search engines can read the content of your publications. Users who search for a product or other search terms can land on a spread of your online publication and browse the publication from there.
And that beautiful and inspirational spread or publication — such as a gift guide for Black Friday or Valentine's Day — could serve as a piece of content that adds more value and engagement than a traditional webpage.
For some extra tips on optimizing your digital publications for search, have a look at this post.
Other channels to distribute on and content marketing tips
The landscape and number of platforms out there for you to market on is constantly growing and in a permanent state of flux; each channel attracts different audiences and users — so think carefully about which ones you want to focus on and which ones will offer the most significant ROI.
We want to end this post with a handful of other sophisticated digital marketing techniques which you might want to consider and which could help you to stay one step ahead of your competition:
Pinpoint the targeting of your digital publications with GPS technology and customer mapping data. A great example and case study of how this worked for Aldi can be found here.
Distribute your online catalog on affiliate platforms and publisher networks.
Use your catalog as content for your personalized and "hyperlocal" ad and marketing campaigns to increase the number of local store visitors. A bundled set of curated content pages, such as a flyer, might work particularly well here.
Integrate your digital publications into your shoppable blog articles.
Use chatbots such as Botnation to share your publication in WhatsApp and Facebook Messenger conversations.
Interested in publishing your own online publications? Contact us, or sign up for our free 14-day trial here.